Texas is big and hot. And you need something to get through the heat and humidity. So beer it is. There are many breweries across Texas and I indulged in the following varieties throughout the past summer and fall.
Adelbert's Brewery, Austin - Flyin' Monks (10.9%)
This quadrupel ale is one of the brewery's infamous Belgian-style ales that are both potent and quirky. Conditioned with rum oak cubes, the label states "Enjoy the Flight" and who wouldn't with each mouthful of this cork-topped bottle. I'm constantly amazed by the desire of US microbreweries to create their own versions of my beloved Belgian beers.
Jester King Brewery, Austin - Black Metal (9.3%)
This is a farmhouse imperial stout that is described by the brewery as "a cruel and punishing beer fermented by the sheer force of its awesome will." Brilliantly said. It's one of their many brews that are worth trying just for the unique and artistic label designs. I love dark beers and I particularly adore imperial stouts. The perfect alcohol content and is best enjoyed as an after-dinner dessert by itself.
Rahr & Sons Brewing Company, Fort Worth - Texas Red (5.0%)
A good amber lager is hard to find and this one is perfectly drinkable for its caramel and malty undertones. Just right for those long, energy-sapping summer days. I also tried the brewery's "Ugly Pug" at last spring's
Houston Press Brewfest
and will let you figure out what type that is.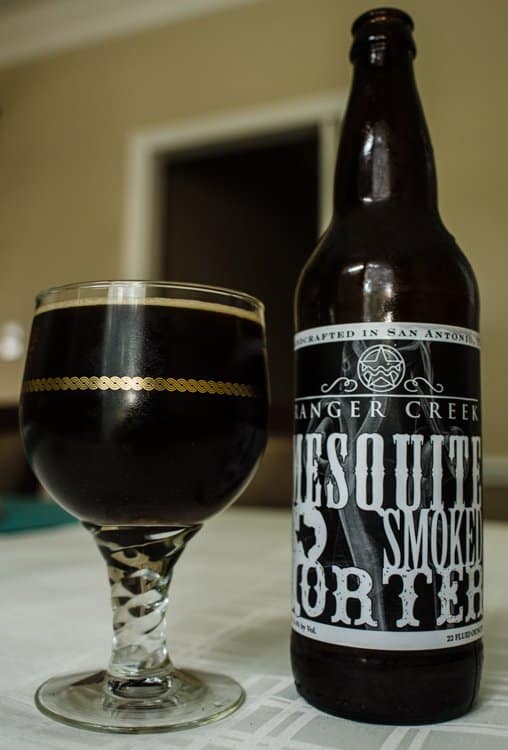 Ranger Creek Brewing & Distilling, San Antonio - Mesquite Smoked Porter (6.4%)
Porter is my ultimate beer that can be imbibed on any day at any time of the year. The smokier, the better and this drop has the added bonus of "using malt smoked in-house over Texas mesquite". Now I'm not 100% sure what mesquite actually is, but this smoked porter tasted like a liquid-barbecue in my mouth that couldn't quench my hunger. I just wanted more and delicious is not a strong enough word for this beautiful brew.