It's been a long time since I visited beautiful Bali, but I still remember its beautiful beaches and friendly locals. In today's guest post, Lisa Niver Rajna from We Said Go Travel shares her top recommendations for where to snorkel in Bali's north.
Snorkeling and scuba diving are two of my favorite adventures to experience while traveling. Having been to over 100 countries, I have had ample opportunity to see amazing sites underwater. When I say that the snorkeling in Northern Bali has been incredible, I am saying it with some knowledge of various sites around the planet.
When we arrived in Bali on July 3, 2012, I imagined we would stay a few days in the Kuta area and be off to snorkel the Toggian Islands of Sulawesi, a spot I really wanted to see. For a variety of reasons including health, religion and technological dramas, we have been here the entire time. And when I heard it was Ramadan, I knew it would be better to stay in Bali (98% Hindu), rather than any other part of Indonesia (98% Moslem). I traveled in Oman once during Ramadan and did that trip from a cruise ship where we could easily eat breakfast and dinner without upsetting anyone's religious observances.
Staying on the island of Bali has been a wonderful choice. So far we have spent seven nights in Tulamben and ten nights in Amed at several very different hotels. What has been consistent is the great snorkeling.
USAT (United States Army Transport) Liberty Wreck, Tulamben
This snorkel site is directly across from the Puri Madha Hotel. This 120m long American ship was built in 1915 and came to Indonesian waters to battle for World War II. On January 11, 1942 it was torpedoed by the Japanese, then dragged to deep water because the wreck was a hazard to navigation. After the volcanic explosion of Mt. Agung in 1963, the ship was now closer to shore, as the lava greatly shifted the coast line. The snorkeling here is fantastic and there is so much to see. Colorful soft and hard corals as well as fish make their home in this wreck, which is in three large pieces. Sometimes over 100 divers visit the site at the same time so it can be crowded!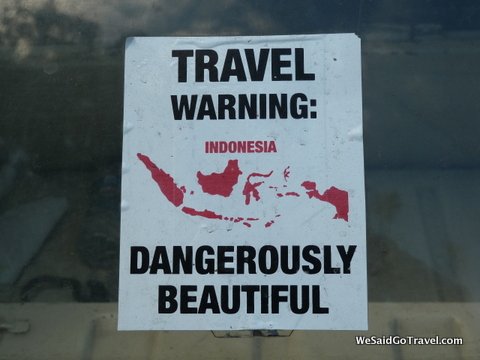 DROP OFF snorkel site, Tulamben
This site has a rocky entry but is often calm, especially around the pinnacles. We saw lion fish here, as well as eels, clams and trumpet fish. The variety of colors and types of hard and soft corals is impressive. The snorkeling is great and the divers love that they can get a bit deeper here. Remember to wear water shoes or booties with your flippers, as the lava rock pebbles are a challenge to bare feet. Access from the end of town by rocky beach or down the steps from the temple at the top of the hill.
Japanese Wreck, Amed
This rocky entry can be a bit tricky if there is surf but it is worth the effort. The beach, like all in the area, is covered with hauled fishing boats. A buoy with a line helps you find the wreck and also to pull yourself to the right spot when strong currents flow. We went twice by motorbike, once from Bali Amed in Lipah and once from Deddy's Bungalows in Amed. We always travel with masks and snorkels but in Northern Bali they do rent the necessary gear nearly everywhere. I think this wreck might be easier for snorkelers to see than USA T Liberty as it is smaller and closer to the surface and closer to shore. However we did not find the conditions as consistent as in Tulamben.
Lipah Beach, Amed through Vienna Beach Hotel across from the Hotel
This is a black sand beach. I would almost say it was my favorite even if the snorkeling wasn't great. I love the fact that there is real sand on this beach and no booties required! Signs everywhere tell tourists how to protect the live corals. As one man we met said, "This beach, this coral is my life! Do not step on it! No walking on the coral!" George was here fifteen years ago and was concerned that the snorkeling would not match his memories, but due to conservation efforts this area does have phenomenal snorkeling. It is my top pick for snorkeling in Northern Bali! ENJOY!
Bio: Lisa and George Rajna met online in 2007 and started traveling together internationally almost immediately. By 2008, they had quit their jobs, rented their condo and left for a year on the road. After eleven countries, twelve months, losing sixty pounds and getting engaged underwater, they returned to Los Angeles. On July 1, 2012, the next year long adventure began in Indonesia with snorkeling in Northern Bali.
Lisa Niver Rajna was recently on National Television as science teacher on the show Career Day. She is a 2012 nominee for the Presidential Awards for Excellence in Math and Science Teaching, and a member of the Traveler's Century Club for travelers who have been to over one hundred countries. She and George are spending a year in Asia. Follow their travels at We Said Go Travel, on Twitter and on Facebook.