We can almost always tell where we are in Europe by the food that surrounds us. While our favourite cuisines are not dominant as we head further east, we're still finding plenty of yummy bites. A traditional Polish menu is pretty meat-heavy, with helpings of potatoes and dumplings to round out the meal. With influences from Russian, Hungarian, Ukrainian, Jewish and German kitchens, Polish foods are dominated by vegetables like sauerkraut, beetroot and mushrooms, as well as bread, sour cream, spices and sausages.
Pierogi deserve a special mention. These delicious little half-moon shaped dumplings are served fried or boiled and are often topped with a light helping of sauteed onions. Common fillings include sauerkraut, mushrooms, meat, curd cheese, potatoes and fruit, with the sweet ones served with sugar and cream. They're ubiquitous in Poland and are much more filling than they look.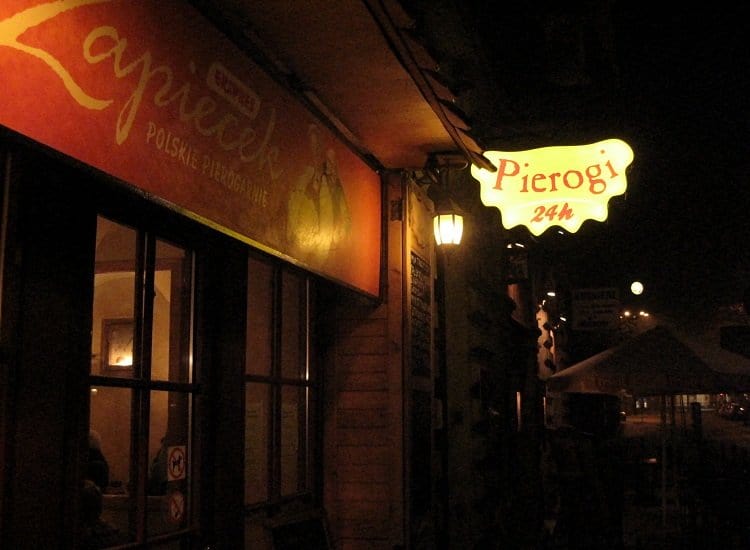 Another favourite of ours were the delicious hearty soups that come in so many varieties. Beetroot soup can be hot or cold, though we're not big fans of the purple vegetable (despite coming from Australia where slices of beetroot can often be found on a burger). We preferred the sour soups, dominated by potatoes, sausage, cucumber or cabbage. Popular thick vegetable soups like wild mushroom, pea, tomato or dill are warm and tasty on a cold day. Carnivores will be satisfied by beef, chicken and smoked meat selections.
Meat dishes in Krakow restaurants were expertly presented and much more sophisticated than just a standard roast. Poland food staples include all kinds of meat; beef, veal, pork, duck, chicken, lamb and game feature on most menus. Delicate sauces with flavours of garlic, pepper, dill, marjoram and parsley compliment the dishes perfectly. Add a side of potato dumplings or pancakes and you'll finish with a full belly.
If there's still room for dessert, options abound. Doughnuts, cheesecake, pastries and a variety of other cakes and fruit desserts are popular in Poland. We rarely had enough room to try them, however, but did have the opportunity to eat some Polish cheesecake and chocolate cake with our relatives. It's very popular to put fruits like raisins in the body or crust of the cakes (even the cheesecake) and this isn't exactly a favourite for us. But it was great to try something different as the cheesecakes in Poland aren't as thick and dense as the ones we're used to from New York, for example.
Finally, the alcoholic beverages of Poland. The different types of vodka are endless, but we were too under the weather to get stuck in. Sure it would've gone down a treat in the freezing cold, but our bodies could only handle beer. This didn't prove to be a problem though, because Polish beer is excellent...and strong. The lightest lager we found was 5.2% and the standard was 5.6%. Brands like Tyskie, Zywiec and Okocim are found everywhere, with most also having a dark variety, usually porter. The alcohol content can rise up to 9.5% with these and the intense flavours are a treat. Piwo with your meal, wodka for a digestif and then a taxi ride home!
 Have you visited Poland? What did you think of the food?