This is the last post in our travel memories series. Hopefully you've enjoyed time travelling a bit with us and learning about some destinations we enjoyed in the past. For those of you who aren't that into flashpacks, thanks for sticking around the last few weeks. We've been busy living life in Norway and will be back to sharing experiences from Scandinavia in the coming week.
The best testament to the fact that we love Tasmania is the fact that we visited three different times in five years. In both 2007 and 2010 we enjoyed trips to Australia's little island state over the Easter holidays.
Tasmania has so much to offer. On our first visit we began in the capital city of Hobart in the south and took a drive up the east coast, stopping to hike in the Freycinet National Park and also visit the Bay of Fires in the northeast. Bed and breakfast accommodation is plentiful in Tasmania and we've had plenty of delicious meals during our travels there.
Beer and wine in Tasmania are easy to come by and there are quite a few winners if you're into a drop during your travels. A favourite region for us is the Tamar Valley, which is the oldest and located just outside the second-largest city, Launceston. I love my cool climate wines and the Pinot Noirs on offer there are delicious. We took a wine tour on our first visit, which included a visit to Jansz, Australia's premier sparkling wine producer. We highly recommend a wine tour on your visit to Tasmania.
Our second trip to Tasmania was for the sole purpose of visiting the Cradle Mountain National Park (CMNP) in the north. After spending one night in Launceston, which is worthwhile for visits of at least a day or two (I highly recommend a visit to the gorge in town), we headed off on our drive to the park. It's possible to stay right near the entrance at one of a few different types of accommodation, including luxury hotels and campgrounds. Shuttles operate between the main parking lot and the entrance as well so that visitors may drive in from surrounding towns.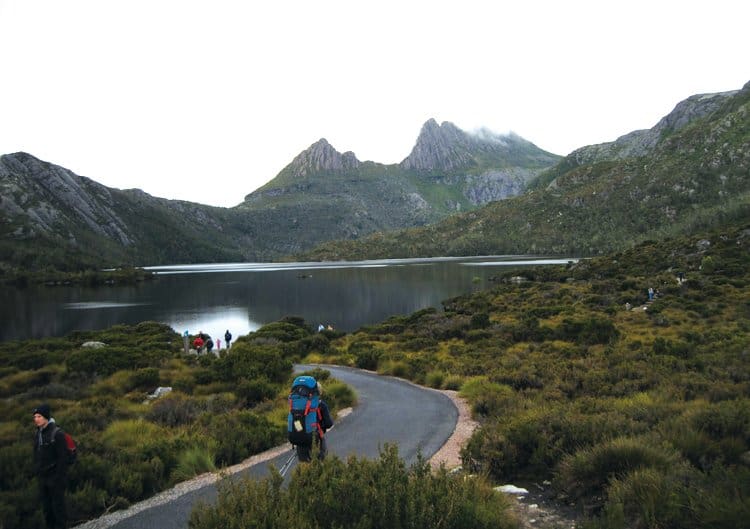 CMNP is a hiker's paradise. Even if you aren't into long or strenuous hikes, you'll find a nature experience to suit you in this park. A few of the major trails are paved with wooden walkways, perfect for those looking for just an easy walk and the chance to view some of Tasmania's amazing wildlife.
One of my favourite memories here is seeing a huge creature coming towards us on one of the wooden walkways and feeling immediately frightened. We had never come across a wombat before and had no idea that they could become so large. This one was probably three or four times the size of the wombat shown here in the photo and he was walking straight towards us on the path. As he got closer we felt both relieved and quite silly once we recognized the type of animal he was. CMNP is probably the best place to see these animals in the wild. It is nearly impossible to view a Tasmanian Devil in the wild, however, so if you are able to spot one consider yourself extremely lucky. We even took a night tour hoping to spot one but had no luck.
Another favourite memory is our adventure along the Hounslow-Heath track. Guided only by our map from the park office, we happened upon a sign for the track as we returned from another hike. A note on the map along with a posted sign warned us that these trails were not maintained. Of course that just made us want to try them even more so we took off along the path. After wading through overgrown grass and a barely marked forest path for an hour or so we came to a huge field. Trying to keep the path as best we could, we continued on - climbing up a small mountain, trekking along the top of it and eventually finding a path down into a muddy, sopping rainforest - we persisted for several hours, never seeing another soul on the trail the entire time.
We were so thankful to reach the end and not be completely lost in the park; I think we missed out on a lot of enjoyment during the hike because we stressed so much about staying on the right path. Looking back, however, I think it was one of the best hikes we've ever done.
We also took a day away from the park to visit one of the nearby caves and a pub in one of the towns.
It's a shame that so many visitors to Australia miss out on Tasmania or only manage to visit Hobart. If you're looking for really untouched wilderness, for experiences that require complete self-reliance for survival for several days, Tasmania is one of the many places in Australia where you can have that kind of experience. The southwest is completely wild with unpatrolled (from what I understand) sections of national park that are just stunning. We aren't that experienced so I can only rely on photographs I've seen and stories I've read about others' experiences. Judging from what we've seen of Tasmania, however, I'm sure there are some amazing parts of the state that we won't have the skills to ever see.
Have you ever been to Tasmania? What were your impressions?