No pleasure trip in the United States is complete without a stop in Las Vegas. Yes, it can be tacky, overwhelming, expensive and completely over the top, but since my first visit on a girls-only trip there in 2001 I've kept coming back. Our 2009 USA trip was the perfect chance to show John how Sin City does it in style.
I should preface this post by mentioning that this was the first time I'd ever visited Vegas in the middle of summer - as one might expect it isn't the best time to go. It's stinking hot, some restaurants are closed and in general we felt like the best customer service people were off on holidays. We did not skimp on our accommodation, splurging on a huge suite at one of the newer hotels. It was nice but not worth it because of the mentioned service issues. When you have a special entrance and section for the suite area of the hotel, with dedicated elevators and staff, two of those elevators should not be broken and the personnel should be friendly. We should not be able to hear the shower of the rooms above or behind us, nor should we be able to hear the housekeeping staff crashing about in the mornings through the walls. Enough said.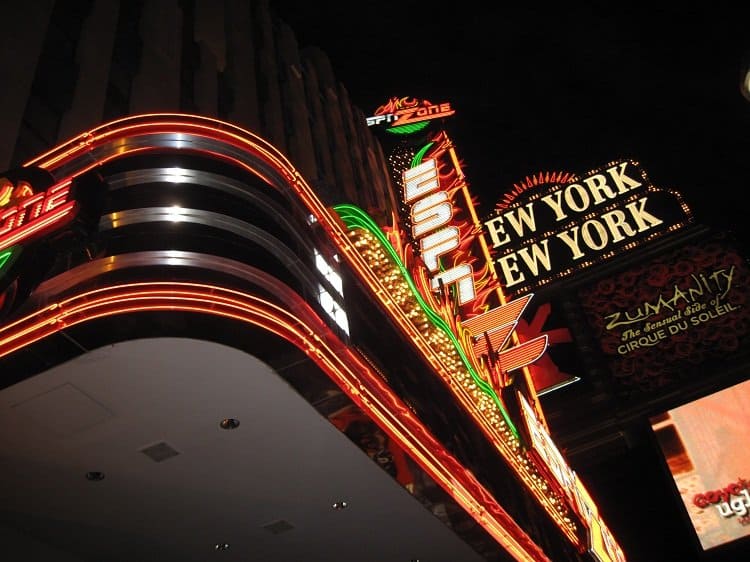 Aside from disappointments with the hotel the rest of our time was a lot of fun. It seems like every big city restaurant now has an outpost in Las Vegas (or skips opening in the cities altogether). We didn't have a bad meal the entire time we were there. During the day we wandered up and down the strip checking out all the different casinos, which was fun except for the annoying touts snapping cards for nudie shows and sex clubs in your face every three steps. One of the novelties of Vegas is being able to take your drink outside with you and walk around with it, especially handy when the temperatures are around 100 degrees F.
We also went shopping and took a sightseeing trip to the Grand Canyon, since neither of us had ever been there before. I don't remember why we didn't take the helicopter tour but that was probably the mistake of the trip. We ended up on a bus tour, which is great if you want to spend most of your day on a bus with a bunch of other tourists wearing coloured numbered stickers so you don't get mixed up with the other groups at the buffet outside town. We were on the bus, I think, six hours either way (that may be an exaggeration or even an underestimation but that is how I'm remembering it) with only about an hour and a half at the Grand Canyon. The helicopter clients get picked up in a limo and spend a few hours inspecting different parts of the Canyon. An easy choice in hindsight.
Our tour included a drive past the Hoover Dam. We were told that this was special because once the new bridge was completed, buses would no longer be allowed to pass by the Dam on the old road. Our driver told us that it was a national security risk to have public buses travelling so close to the structure, which makes sense given how close we were to it. Equally impressive to me was the construction of the bridge that was going on.
Our driver actually saved the tour for us. He was really knowledgeable about everything that was going on in the area and gave us an interesting perspective on Las Vegas with regards to the economy at the time that we were there. He claimed that all of the big corporate-owned casinos were tightening up the slot machines and cutting costs, which was seriously impacting on the fun one can have in Las Vegas. I could see his points
The times I'd visited previously had been much more fruitful when it came to casual gambling in the casinos. In the end we came up exactly even, maybe a dollar or two up or down. We're small time when it comes to gambling - but in the past I remembered a much more lively Las Vegas experience. I still don't know if it was summer or the economy, but while we still had a good time, things did seem a bit closed up and reserved along the Strip. Our driver recommended some of the smaller casinos about fifteen to thirty minutes outside of the Strip and I wish we'd been able to get to some of those.
Another interesting story we learned was about Las Vegas businessman and visionary Steve Wynn and how he suffers from a degenerative eye disease that usually inevitably leaves its victims legally blind. That seems like one of life's cruel little ironies considering how stunningly beautiful the interiors of his casinos are:
The highlight of the trip for me was seeing the Cirque de Soleil show, 'O' at the Bellagio. The French Canadian performance company has many, many shows in Vegas these days but this is the only one I've seen there and I can't imagine anything topping it. I've seen many shows and performances in my life but this has been the best one. It's a big call,  perhaps only rivalled by the ballet we saw at the Paris Opera, but I'll stand behind it. We booked the tickets so early that we had front row seats so we could feel the drops of water splashing off the performers. John even got pulled up on stage during one of the acts to dance with one of them. It was an unforgettable performance for me and perhaps my fondest memory (aside from time spent with family and friends) of our entire trip to the States in 2009.
Have you been to Las Vegas? What were your impressions?
You may also enjoy these similar posts: