This post is part of our Travel Memories series, where I'm reminiscing about trips we took prior to starting this blog. To read more about the series, please check out Travel Memories: Fiji.
New York City
Although the United States is my home country, I've been playing tourist when we've visited over the last seven years. I left a big part of my heart in New York City when I left in 2005 and since John loves it as much (well, I think almost as much) as I do, we have always vowed to move back there someday when we can afford it. It's complicated - John needs a Green Card, which we can get but must apply for, and I would have to sponsor him - a whole other scenario that requires some planning on our parts. So in the meantime we have to make due with trips back when we can, this one being in 2009.
I always knew I would move to New York City one day. My mother's side of the family are from New Jersey and reside both there and in New York, though I didn't have any opportunities to visit growing up. In college, many of my closest friends were from New York and I first experienced the city by visiting them on different occasions. It was love at first sight. After finishing portfolio school in San Francisco I finally made the move. My time there was relatively short but long enough to make lasting friendships and business connections. These have lasted long since I took off to Australia one day to spend the summer with John and began my international nomadic adventures.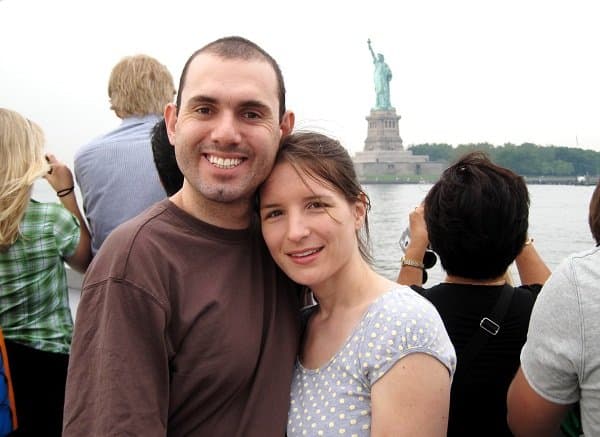 The first time John visited the city was just after Christmas the year we met. It was cold and, being Australian and all, he was averse to the cold and spent most of his time indoors. I was working and didn't get to take him around to any sights (we did eat at Peter Luger, saw Avenue Q and went to a Giants game so I wasn't a completely terrible host). Aside from a few Broadway shows and concerts, I hadn't done too many touristy things myself. So this trip we decided we'd do all the typical things one does when they visit New York for the first time for sightseeing. We went to the top of the Empire State Building, saw the Statue of Liberty and Ellis Island, went to Ground Zero, had several dinners at top restaurants and visited Central Park. We spent the rest of our time with family and friends, which is always the best part of any visit to NYC for me.
This trip was also the first time either of us had the opportunity to visit friends in Harlem and it quickly became my new favourite neighbourhood. I highly recommend that anyone who visits the city should check it out. It's huge so I realize I'm not being a very good guide here by saying, "You must go to Harlem!" but with so many beautiful buildings, affordable quality restaurants and stunning views along the river, just a wander will leave you wanting more.
So while my mother's entire side of the family hail from New Jersey and most of my friends are from or in New York City, my father's side migrated to another great American city...
Chicago
I'm a big city lover and I believe this came from the many trips I took to Chicago as a child. My father would always take me to the city at least one day during our family visits and we'd spend lots of time exploring the city, shopping or going to museums. While I prefer New York (sorry, Dad), I still love Chicago with all my heart. I only slightly prefer a New York slice to a stuffed deep-dish pie and the parks along Lake Michigan rival Central Park for me. After a brief detour, which I'll talk about in Part Two, we headed to the Windy City over the 4th of July.
We didn't have much time because of the holiday but I wanted to take John around the city. Last time we visited it was over Thanksgiving and the one day we planned to go downtown we were thwarted by a blizzard that closed Willis Tower. The number one reason why I've never considered Chicago as a place to live is the weather. Yes, it gets cold and icy in New York, but the proximity to the ocean keeps it reasonable. When the Chicago wind blows it's cutting. I can't hack it. In this respect I think Chicagoans are tougher than New Yorkers.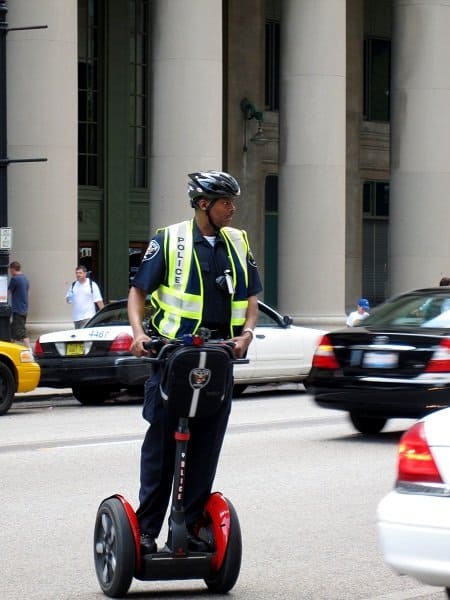 One of the main things I wanted to do was to take one of the brilliant architecture boat cruises so that we could learn more about Chicago's incredible buildings. I took a lot of photos on the tour but I'll only share this one, because it is the iconic building that I always remember from my childhood visits.
In keeping with the architecture theme, my cousin also took us to Oak Park where it is possible to view many homes designed by Frank Lloyd Wright. I couldn't believe I hadn't seen them before as he is one of my favourite architects. When you visit places where you know people I think it is easy to overlook some of the wonderful things there are to do there.
My father and his wife live on a beautiful lake in the suburbs so it was the perfect place to hole up and have a family barbecue for a rainy 4th of July.
I don't know if they still do so many in this economy, but in 2009 several different suburbs had their own fireworks displays so it wasn't necessary to go downtown if you wanted to see fireworks on the holiday. After plenty of nice food and drinks we settled in to watch them from the deck.
On our last day we visited the Field Museum, which houses natural history exhibits and artefacts. Chicago has an incredible collection of museums, from the Art Institute to the Museum of Science and Industry to Shedd Aquarium.
We saw quite a few things at the Field Museum but the exhibit that most struck a chord with me was the one called "Mass Extinction." It discussed the chronology of extinction events throughout the planet's history, leaving me with no doubt that another one will occur sometime in the future. Who knows whether it will be in our lifetime or not - a pretty sobering thought that reminds one to follow the old cliche of living life to the fullest now.
What's your favourite big city in the world?