New York is definitely a great place to eat. One of the things I love about visiting mega-cities like this is the vast array of options. Almost every world cuisine is represented and there's something delicious in every price range. An observation I made when writing about London's unusual restaurants, however, is the difficulty of discerning between the faddish and the fabulous in a city of this size. We usually face a few years gap between visits to NYC, and while our tried and true favourites usually remain, it's harder to suss out which of the newer restaurants are worthy.
So it becomes a case of trial and error, though who can complain when the challenge involves food? Let's see where our gastronomic explorations took us on this latest trip to the Big Apple...
Fedora (239 W 4th St, www.fedoranyc.com)
Arriving in the West Village late in the afternoon on our first day in the city, we were after something close and happening.  Fedora's interesting American menu had us interested at first glance and we headed over for a somewhat early reservation, the only one we could get at such late notice. Here the bar takes up almost as much space as the dining area, with a boisterous yet friendly atmosphere.
The menu was hit or miss for us. I'm a huge fan of sweetbreads, though I found the sauce presented here to be a little overpowering. John tried one of the specials: toast served with a delicious pate-style spread that stole the show for both of us.
For my main, I enjoyed my dish of 'Krispie Fried Chicken,' presented right along with the chicken foot. John was less impressed with his Pressed Pork Sandwich, served with gruyere cheese and chipotle mayo and a side portion of shoe string potatoes. We still had a nice evening at Fedora, but had expected a bit more overall from the food, which felt a bit more like picnic lunch fare than a proper supper.
Blue Ribbon Sushi (308 W 58th St, blueribbonrestaurants.com)
I would not file any of the Blue Ribbon restaurants under 'trendy.' Back when I lived in New York City, the original Blue Ribbon Brasserie used to be (and perhaps still is) THE place for the city's chefs to eat. It's open until 4am. so naturally the area's culinary talent could flock there after their shifts finished. I loved it because of the diverse menu and fresh, delicious produce. The same restaurant group also operates Blue Ribbon Sushi, which is my favourite place for high-end sushi in New York. While the first location opened in SoHo on the same street as the brasserie, they now have another outpost in Midtown West, inside the 6 Columbus Hotel.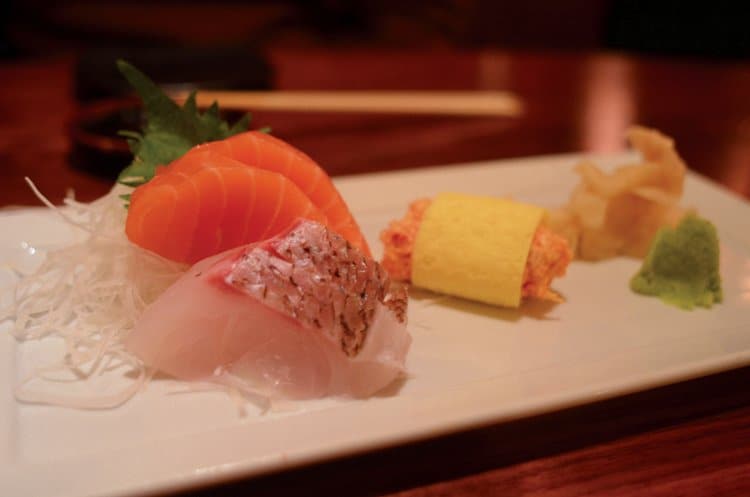 I was not disappointed by my return to Blue Ribbon sushi. Simply fresh sashimi and sushi, along with carefully prepared cooked Japanese dishes are what you'll find here. We enjoyed a delicious bottle of sake and relaxed after seeing a Broadway show. Most of all I love the variety of fish on offer at Blue Ribbon Sushi. A list of daily specials is a great place to start your journey.
Quality Meats (57 W 58th St, www.qualitymeatsnyc.com)
Steakhouses are abundant in New York City. While Peter Luger is always my first choice, we didn't want to make my father trek out to Brooklyn  because he was only in town for one night. So we thought we'd try a new place, which seemed a good bet because it was part of the Smith & Wollensky group. Unfortunately we were pretty disappointed with the entire experience. My father's baby back ribs arrived already separated and weren't to his liking. John and I both had the Aged Rib Steak, which was good but not excellent. The side dishes were unique and not too bad; the restaurant divides them into "sides" and "new classics," and I actually really enjoyed the corn creme brulee. But when you go to a steakhouse, you want the steaks to shine. Service was chilly yet efficient, but I wasn't happy with the way staff hovered over us as we lingered to enjoy the rest of our conversation after we had finished eating. I know they probably wanted to go home, but when you drop a few hundred dollars on a meal and no one is waiting for your table, I think you should be allowed to stay until closing if no one else needs your table.
In part two, we'll explore a few more New York restaurants and share the best meal we had of the lot.
What's your favourite place to eat in New York City?
A great place to stay in Manhattan, with plenty of great restaurants nearby, is The MAve Hotel. Here you'll find affordable boutique accommodation with excellent amenities. Thanks to them for hosting us during our time in New York.
You may also enjoy these similar posts: