The obligatory visa run, well-known to many a long-term traveller, doesn't have to be a chore. Lindsay Hartfiel talks about two of hers in Central America in today's guest post.
Traveling from one country to another, while an exhilarating adventure, can be incredibly exhausting. After living out of a backpack for months on end and staying in hostels of suspect nature, you may find that the nomadic lifestyle has finally caught up with you.
For once, you'd like to have a place where you can stock up on groceries, unpack your belongings and give your family back home an actual street address. You realize that by doing so, you're able to plant some roots. You're finally able to not just greet your neighbors in the hallway, but invite them over for a glass of wine. You're able to cook regular meals and even add some personal touches to the space around you.
Unfortunately, just as you settle into a more stable living situation, you're forced to pack up again. Don't panic…you only need to pack for three days. That's right. You've officially been in the country for 90 days. Your tourist visa has just expired. And, to avoid any exorbitant fines or a booty kicking out of the country, you must leave for 72 hours.
That's the reality if you're living in a country such as Costa Rica. During my 17 months in paradise, I had to exit the country on five occasions. Not including a few trips back to the U.S., I visited Costa Rica's bordering countries: Nicaragua and Panama.
While there is always the possibility to fly into these countries, most tourists choose the cheaper route: local buses. Flying is a cinch compared to actually walking across the border of a Latin American country. And, since you've been living in one location for the past three months, why not shake things up a bit?
Nicaragua
My first border crossing was somewhat of a cop-out. I tagged along with the local language school that coordinated visa runs. The van, the hotel, the activities…everything was already planned. Although it may sound intimidating, crossing the border is a rather simple process:
• Exit current country – you must wait in line and give the proper paperwork to the Costa Rican official
• Enter destination country – both times I went through the border, we merely handed our passports over to the drivers. They proceeded to get our passports stamped without any hassle. This can take a few hours if you arrive at a busy hour, so be prepared to wait.
Peñas Blancas, the name of the border crossing, is a bit sketchy – it resembles a dirty, oversized rest stop. Speaking of, I'm only going to advise those traveling to Nicaragua to NOT use the restrooms at the border. It's not a pleasant experience. However, despite the subpar restrooms, the duty-free stores are clean and air-conditioned. If you must wait, I'd advise checking these out.
Also, prepare for a barrage of hagglers trying to exchange money with you. I had heard from previous sources that it was ill-advised to trade money from any of these people. There conversion rates were high and it wasn't necessary to exchange money immediately.

Panama
One of the most popular destinations for a visa run is Bocas del Toro, Panama. These Caribbean islands are known for their calm, translucent waters. It's a wonderful respite…once you're there.
To get to Bocas del Toro, you'll need to first reach Sixoala on the Caribbean side of Costa Rica. You'll go through a similar routine as in Nicaragua. Before leaving Costa Rica you need to show border control your passport. However, unlike in Nicaragua, where a van or bus transported us from one stop to the next, this border crossing was a bit different. This time we actually had to walk across a rusty old bridge with wooden boards laid across it. In most instances I would advice people not to look down, but in the case, if you don't look down you just might fall through the bridge.
Once on the other side, we waited to get our passports stamped yet again. But wait, we needed an exit ticket. We were required to purchase some type of ticket that indicated we would be leaving Panama within the next 90 days. With ticket in hand, our passports could be stamped and we could "officially" enter the country. After a taxi ride, a water taxi ride and some walking, we finally reached our destination.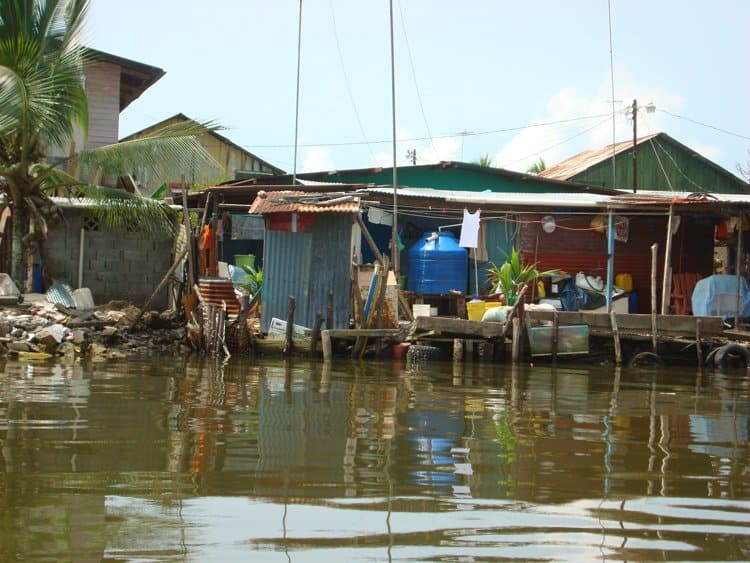 Visa Run Tips
• Visa requirements ­– 90 days applies to many tourists, but not all. Check the regulations for your passport…some may only allow a 30-day tourist visa.
• Be prepared – know the entry fees and what other documentation you need to cross the border.
• Act confident – if you look lost, people will likely take advantage of you.
• Be Alert – there are several sketchy characters that hang around the borders. Watch your purse and any other luggage you might have.
• Money exchange – best to use an ATM once you're in the country rather than exchange money at the border.
• Overstay at your own risk – you may get fined, kicked out of the country or just merely get a slap on the hand if you stay over the allotted time allowed by your tourist visa. I wouldn't risk any one of them.
• Buy a return ticket – it is advised that you buy a bus ticket to show you will be leaving the country in another 90 days. If you have a plane ticket or other documentation confirming your exit, then you are set.
• 72-hours give or take – we fudged our time in Panama just a bit and left the country in less than 72 hours. I was a bit of worried we would be denied entry into Costa Rica and be forced to sleep outside at the border. This didn't happen. But, I can't guarantee it won't happen to you.
Bio: Lindsay Hartfiel has been to more than 12 countries and is currently residing in Samara, Costa Rica. Her first international experience occurred in 2005 on a study abroad program to Florence, Italy. She is the editor-in-chief of Native Foreigner Magazine, a digital-only magazine for travelers returning home from an extended trip abroad. Find her on Twitter and Facebook.
You may also enjoy these similar posts: