Today I want to take you to the region of Derbyshire and it's neighboring city Nottingham.
Together with 7 other Belgian travel bloggers, I was invited for a day trip to the Peak District National Park and for a meet-and-greet with the one and only Robin Hood!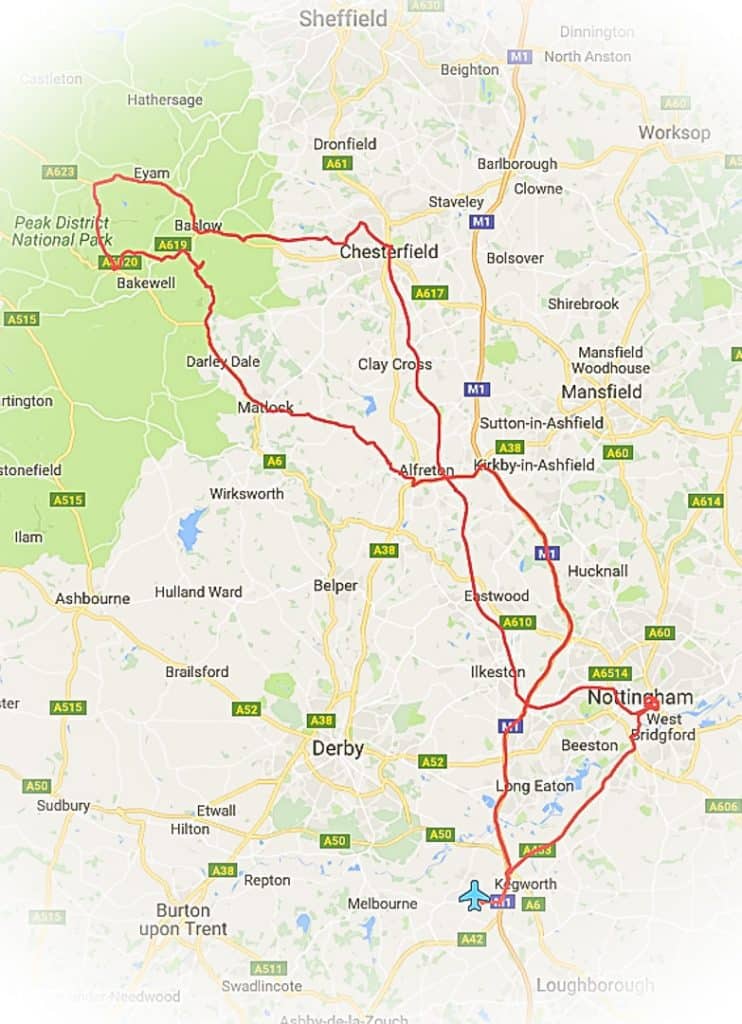 Getting there
Derbyshire is a county in the East Midlands of England, located about 150 miles northwest of London.
It's an area of inspiring landscapes and wide open spaces and easily reachable via the East Midlands airport in Leicestershire.
We took a direct BMI Regional flight from Brussels Airport to East Midland.
(click on the map on the right for a larger view of the map)
The Peak District National Park
First on our itinerary was the Peak District National Park.
Located mainly in the Northern part of Derbyshire this beautiful and diverse National park is ideal for long hikes or cycling.
There are around 65 miles of traffic free trails crisscrossing the area along former railway routes that are ideal for relaxing strolls.
Unfortunately, we didn't have the chance to go for the planned bike ride because our flight into England was delayed and we didn't have enough time, so I  definitely want to come back again to explore the area a bit more and perhaps even do some climbing or caving.
You can find more info about the Peak District on VisitPeakDistrict.com.
After our flash visit to the Peak District, we headed to the Chesterfield train station to catch the East Midlands train to Nottingham!
Nottingham (Snottingham)
I was expecting Nottingham to be a small village near Nottingham Forest 😉 but it turns out it's a big modern and lively city with a fascinating industrial heritage!
We were greeted by the main attraction of Nottingham: the one and only Robin Hood, who took us for lunch at Iberico World Tapas before we headed off on a tour of the city to learn more about Nottingham's history, the truth about Robin Hood, where the saying "One for the road" comes from, and other useless but interesting facts 😉
While everybody knows Nottingham from the stories of Robin Hood, Nottingham actually started out as a primary settlement of the Snotingas, a Danish tribe who either took their name from a chieftain called "Snot" or "Snod", or from the word Snottenga, meaning "caves". Of course in English, snot had a different meaning and so Nottingham got to be known as Snottingham, home of the followers of Snot!
When the French invaded in 1066, they couldn't pronouns the 's' and so they dropped the letter 's' and so it became to be Nottingham.
During the Industrial Revolution, much of Nottingham's prosperity was founded on the textile industry. Nottingham was an internationally important center of lace manufacturing and a lot of the buildings in the "Creative Quarter" of Nottingham are a remnant of these glory days. Many of the buildings have been recently restored and are now the home of many creative and digital industries.
So, what about Robin Hood ?
The original Robin hood is a composite hero. Many stories about real outlaws in the medieval period were woven together over time by minstrels and storytellers and so Robin hood started out as a symbol of hope that was brought to life in ballads.
It was only at the end of the 16th century that Robin Hood was elevated to a displaced Saxon earl as a symbol of the gentry's dissatisfaction with the crown, which formed the basis for the modern tale of Robin hood aka Robin of Locksley who was first mentioned in the book "Ivanhoe" by Walter Scott.
The best watering holes of Nottingham
When Robin Hood asked us what we wanted to see during our tour around Nottingham, I asked him if he could show us some good places for enjoying some fine mead of course 😉
Turns out that Nottingham has maintained much of its tradition and has a rather large bar and music scene!
There is a watering hole for everybody!
From this Pitcher & Piano bar that's located in a former Unitarian Chapel ...
... to more traditional looking bars like the Malt Cross or the Ye Olde Trip to Jerusalem.
Both these bars have a long history and are worth a visit! (The Malt Cross has actual underground caves you can visit on request)
I enjoyed this quick trip to the Derbyshire region of England and I can really recommend a visit to Nottingham and a tour with the one and only Robin Hood!