One of the things we regret about our December trip to the United Arab Emirates is not visiting the incredible Sheikh Zayed Grand Mosque. In today's guest post, Jill Cox explains how to visit this amazing building and what you need to do to prepare.
While Dubai may get more name recognition than its wealthy neighbor, Abu Dhabi, there's one thing Abu Dhabi has that Dubai does not: the breathtaking Sheikh Zayed Grand Mosque.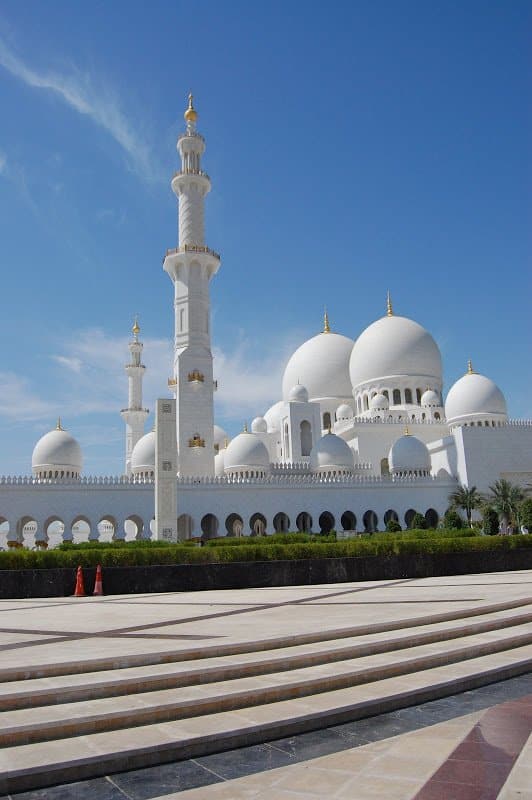 As you cross the bridge onto the island of Abu Dhabi, the Sheikh Zayed Grand Mosque greets you with a shock of white marble, domes, and minarets. It is an incredible structure that, even after seeing it daily on my morning commute for over two years, still continues to amaze me. I recently visited the mosque for the fifth time and still felt enamored by the architecture, beauty, and tranquil atmosphere. No trip to Abu Dhabi would be complete without a visit to the Grand Mosque.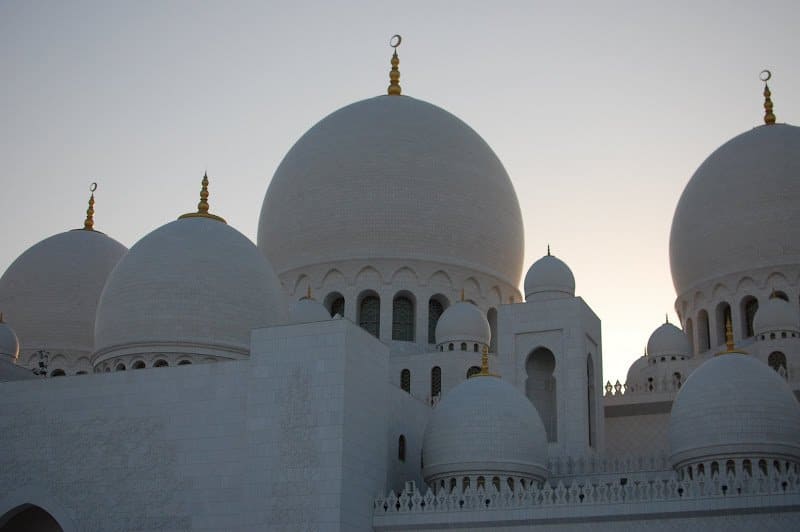 If you are not Muslim, visiting a mosque (especially this mosque) may be a bit intimidating. Upon arrival there is a clear sense that there are rules to follow. However, if you've never visited a mosque, the rules themselves might be a mystery. Here's what you need to know:
Before You Go
Check your camera batteries. I know, I couldn't give you more basic advice but the truth is it's happened to me. I took my sister to visit the mosque and as soon as we alighted the steps, my camera died and hers was close behind. Truly, the mosque is gorgeous and you're going to want photographs.
Dress accordingly. Mosques have strict dress codes. It's a sign of respect if you arrive prepared.
For the gentlemen: No tank tops and no shorts. Pretty easy.
For the ladies: You will be provided with an abaya (loose fitting robe) and shaila (headscarf) near the entrance but you should still enter the grounds dressed respectfully. Only wear loose clothing that covers your arms and your knees (to the ankles is even better). Here's a little tip: Wearing your hair in a high bun or ponytail will help keep your slippery shaila on your head and covering your hair.
For everyone: Shoes must be removed before entering the mosque so slip ons are recommended.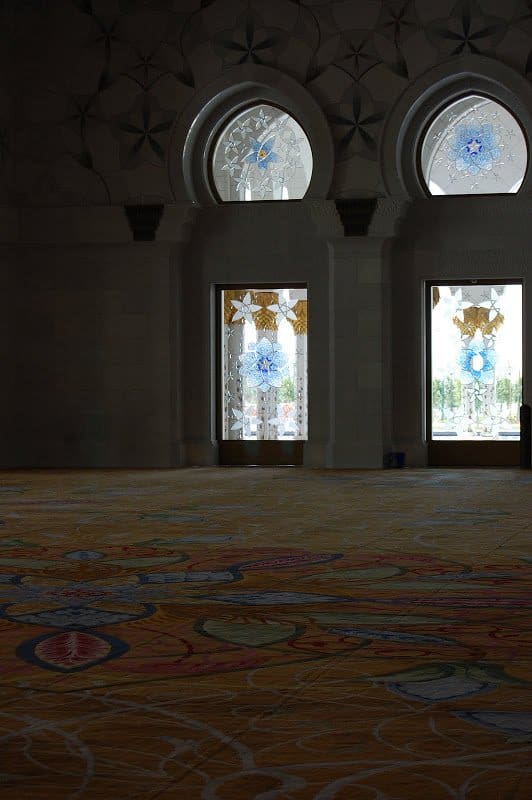 While You're There
Join a tour. Tours are 60 minutes long and run several times a day except Friday. A tour is essential to your visit to the mosque. How else will you learn about the world's largest chandelier (in a mosque) and the world's largest hand-knotted carpet? The architecture, décor, and building materials of the mosque were chosen very deliberately. Your tour guide will be able to tell you all about it.
Ask questions. Really. This is your chance. The tour guides welcome and encourage all respectful questions about Islam or the Emirati culture. Emiratis make up less than 17% of the total population in the UAE. This might be the only time during your visit that you meet a local.
Remain respectful. Inside the mosque women must keep their hair covered. This is why you have a shaila. But as I mentioned before, shaila's are slippery. You might want to ask a friend to be on hair patrol for you. Also, refrain from any displays of affection between men and women. This means no touching. Even when posing for photographs.
Hands off. Do not touch the Quran. I repeat. Do not touch the Quran.
As You Exit
Slip on shoes. Don't worry. They'll still be there.
Return borrowed clothing. Bins are available to deposit worn shailas and abayas.
Visiting the Sheikh Zayed Grand Mosque is truly a cultural and educational experience. Each time I visit, I learn something new about the mosque, Islam, or the Emirati culture. I hope that if you come to the Emirates you'll schedule a little time in your itinerary for the Grand Mosque and arrive feeling not intimidated but prepared and able to enjoy this incredible monument.
Bio: Jill Cox is an expat living in the United Arab Emirates. She blogs about her life abroad, travel, and novelty snacks at Battered Suitcases.