Getting There
Lyon is close to several other major cities. By car it will take only an hour and a half to reach from Geneva, three hours from Marseille or Turin, four hours from Paris and six hours from Barcelona. If travelling by train, the journey to Paris is just under two hours with frequent trains departing. The two stations in the city are Part-Dieu and Perrache. Direct flights are available to 120 destinations.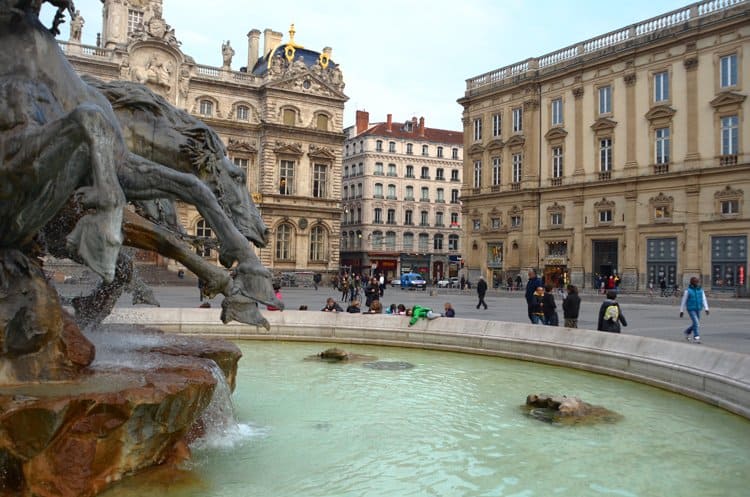 From the Airport
While the city centre may seem small and compact, greater Lyon is actually quite large and the Saint Exupery airport is 25 km away from the heart of town. This makes taxis from the airport quite costly at around 70 euros with baggage and tip. The cheapest way to get to the city is to take the Rhonexpress tramway line, which connects to the Part-Dieu station in 30 minutes. Note that the station is in the city's east and you will likely then need to take a taxi to your accommodation unless you are travelling light or with a backpack and don't mind the walk.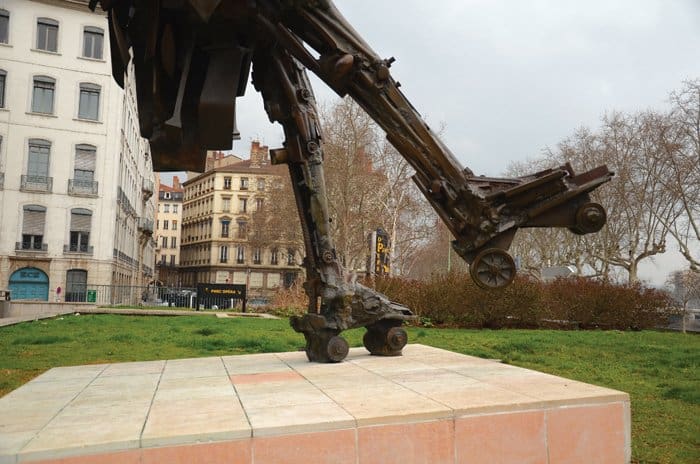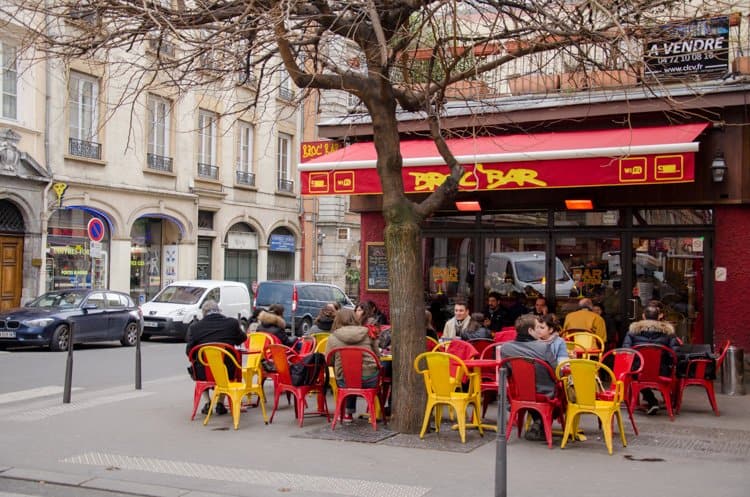 Getting Around
Lyon has a variety of transportation modes once you reach the city centre. The system is clean and efficient, whether you travel by metro, tramway, bus or funicular. The Vélo'v system, with 4,000 bicycles and 343 pick-up and drop-off points in Lyon and Villeurebanne, is another way to get around. Lyon has 440km of cycling paths. Alternatively you can try the Cyclopolitains, electric tricycles with a driver that cost the price of a bus ticket.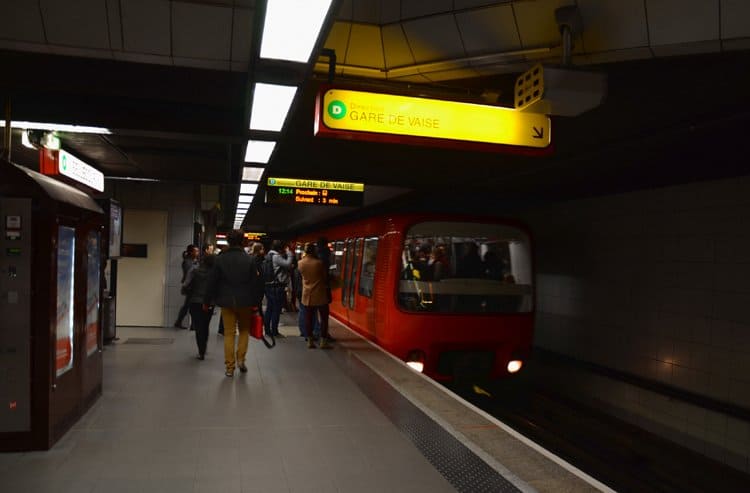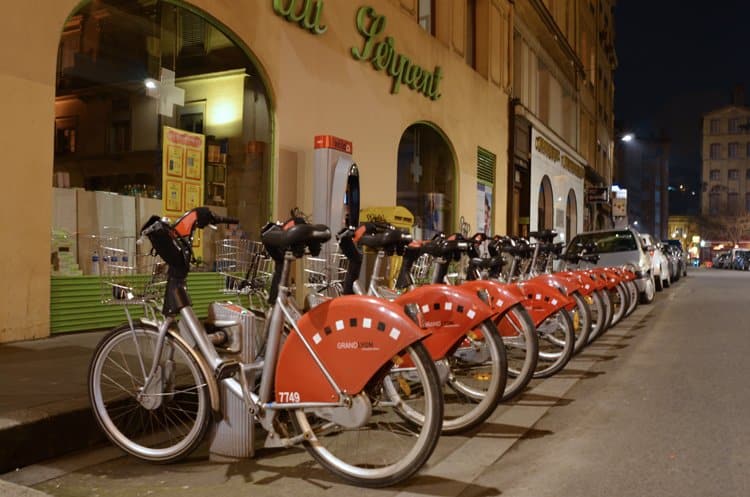 Lyon City Card
We found our City Cards to be so handy for easy access to everything the city has to offer. Available for one to three days, the cards provide free admission to 22 museums, the planetarium and Guignol programmes, along with unlimited use of the public transportation system and free tours and visits. Discounts are also provided on the hop on hop off bus tour, the opera and theatres, guided excursions, bicycle and electric taxi tricycle hire, France Adventures and the aquarium. These can be purchased online or from the Lyon Tourist Office (Place Bellecour, 2nd arrondissement).
Events
There's always something going on in Lyon. Some events coming up in 2013:
Les Nuits Sonores - Electronic Music Festival (7-12 May)
Vintage Fashion Market (13-14 June)
National Music Festival (21 June)
Fourviere Nights Festival - Concerts and plays in the Gallic-Roman Theatres (June-July)
Tout l'monde dehors Festival (Everybody Out!) - free outdoor arts events (June to Sept)
Jazz Music Festival (June)
Biennial of contemporary art (12 Sept - 5 Jan '14)
National Monuments are freely open to the public (Sept)
Lyon marathon (Oct)
Lyon Festival of Cinema (14-20 Oct)
Festival Label Soie - homage to the silk tradition and silk market (Nov)
Beaujolias Nouveau Day (3rd Thurs of Nov)
Christmas Market - Place Carnot (Dec)
Festival of Lights (6-9 Dec, annual)
Shopping
French cities are amazing places for unique items and fabulous fashion. Lyon offers incredible new designers along with all the traditional luxury and high street brands. It's also a great place to buy crafts and silk (such as at the Atelier de Soierie). Here's a quick guide to the city's shopping districts. Much of the action happens in the Presqu'île and I highly recommend a visit to My Presqu'île for a detailed look at the offerings of that district, some of which are included here.  The site publishes a handy guide with detailed maps of the various streets and shops.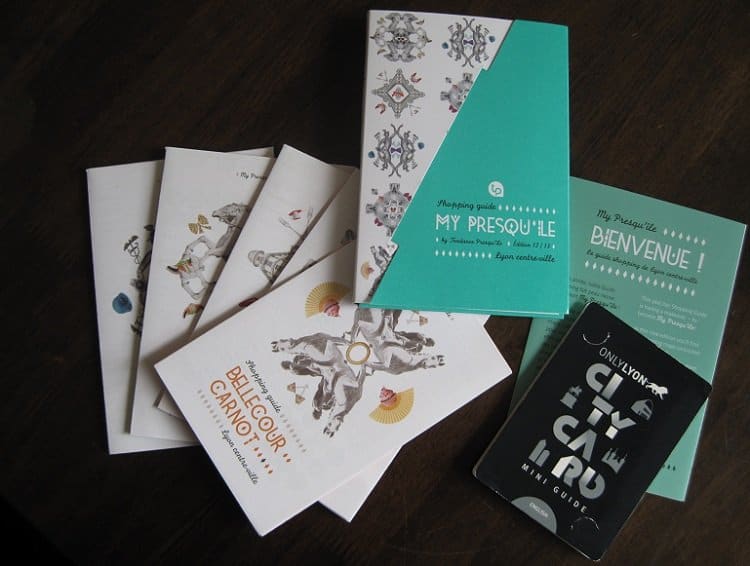 Shopping areas
Carré D'Or – Find luxury brands between the Place Bellecour and the Place des Cordeliers.
Passage de l'Argue – This 19th century glass-covered passage is one of France's oldest arcades. Interesting shops can be found here including some with traditional charm.
Rue de la République – Lyon's main shopping street with a wide variety of shops.
Auguste Comte quarter – This district is the place for antiques. Check out Rue Auguste Comte and the Rue de la Charité
Croix-Rousse – If you're looking for something really special, head to this delightful neighbourhood, where young designers get their start at Le Village des Créateurs (19 Rue René Leynaud). Browse for vintage and designer clothing, books and other unique items. Streets of particular interest include Rue Romarin, Rue du Griffon and the Grande Côte.
Other shopping streets to note: Rue Gasparin, Rue Emile Zola, Rue Confort
We hope you've enjoyed our tour of Lyon over the last few weeks. If you have any further questions about the city, feel free to leave them in the comments or visit www.lyon-france.com.
 Our time in Lyon was hosted by Rhône-Alpes Tourisme and ONLYLYON Tourisme et Congrès. All opinions, however, are always our own.
You may also enjoy these similar posts: