It's hard to put a finger on what makes Turku so cool. As the former capital of Finland (and the country's oldest city), it offers plenty in the way of historic sites and cultural attractions. It's also a hip university town with plenty of bars, restaurants, live music venues and fantastic shopping. It's perfect for a weekend trip from either Helsinki or Sweden. Come along and see how we spent ours...
After settling into our room at the wonderful Radisson Blu Marina Palace, we headed out in search of an early dinner. One of the first things we noticed were all these young people in costumes.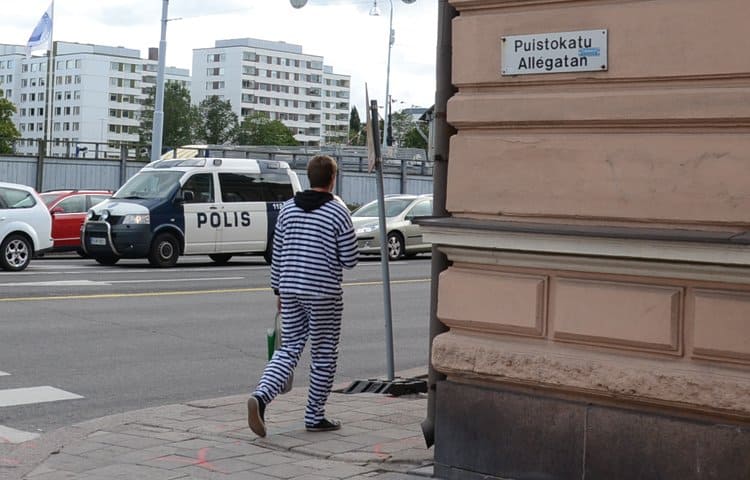 Figuring we were missing out on some kind of fun party, we continued our search for food and ended up at local favourite, Tintå (Läntinen Rantakatu 9, tinta.fi). Even though we arrived quite early, there was only space at the bar. We'd heard such good things about the pizza there that we grabbed a couple of stools anyway and dove into the menu.
This place has over 100 different wines so it was tough to choose. We ended up asking our server for his recommendations, which did not disappoint. But never mind the wine (blasphemy, I know) - the food here is incredible!
With a couple of glasses of wine in our full bellies, it was time to begin the evening. We wandered the streets in the centre of town for awhile checking out the windows of the kind of cool shops we'd come to expect in Finland.
We also spent a good hour inside Turku's public library, which is so beautiful and interesting inside I've saved it for another post entirely (see link in this sentence). After stepping out of the library we encountered an interesting gang that included a long-bearded wizard, Batman and this pirate with a brilliant Scottish accent:
Turns out that the cast of characters around town were just the university students enjoying themselves. I wish I went to school in Turku!
Finally we found our first bar, the Cosmic Comic Cafe (Kauppiaskatu 42 in the forum, cosmic.fi), which as the name suggests, serves up beer and comics - as well as some local live music.
Turku's tourist bureau, Turku Touring, has developed this excellent website called Kiss My Turku (so cute, right?) that allows visitors to input their preferences and then receive instant recommendations from the locals on where to go and what to do in Turku. I think that's brilliant and wish more cities would try to integrate the experiences of locals and visitors. So next time you're in Turku, just use this website and you'll find plenty of gems like our next and final stop for the evening, Alvar (Humalistonkatu 7, alvarbaari.fi). This lively bar offers a dozen beers and ciders on draught and many more in the bottle.
Many thanks to Turku Touring for hosting us. Be sure to visit their website for more information about the region and when planning your visit to beautiful Turku.
You may also enjoy these similar posts: