Next week I'm traveling to Israel for the first time. YES, Israel! I'm going on a Puzzle Israel tour to learn about the real Israel, travel with locals and immerse myself in their fascinating culture and cuisine. Why visit Isreal? I asked Aron Foster from everyjourneybringsmecloser.com to tell us why he thinks that everyone should visit Israel and I promise you, after reading his story, you'll be as excited as I am to discover Israel for yourself!
Prologue/Tel Aviv
When I first started telling my friends and family I was planning a trip to Israel the majority of responses was 'why?' Why would anybody in their right mind go to Israel? I'm an adventurer, explorer, I am a traveler and the greatest thing about that is having the freedom to go wherever I want whenever I want.
Travel is endless and that is why we love it, delving into the unknown and going to countries many would never consider going to. And the day comes when you finally set foot in that country it not only surprises you but it excites you and surpasses all of your expectations and for eight days Israel would do just that.
I was asked two questions and my passport was stamped and once I exited the airport I hailed a cab, showed him my address and we were on our way. A bright orange sun was slowly rising taking away what little darkness remained and the city skyline got brighter and brighter and my destination got closer and closer. Once we exited the highway the streets were slowly starting to come alive and we reached our destination. I got out of the cab and just looked around, thirteen hours of flying that started the night before in Boston was over and I had finally arrived, I was in Israel, I was in Tel Aviv!!!
After a brief walk around the neighborhood where I'd stay I headed to the famous boardwalk, Tel Aviv's famous waterfront playground. It is a wide sidewalk that hugs the Mediterranean Coast that pedestrians, bikers, bladers and runners all share.  It's also home to some of the city's' best restaurants and top hotels. It is one of the best places to sit and listen to the sounds of the city and this beautiful ocean as it roars.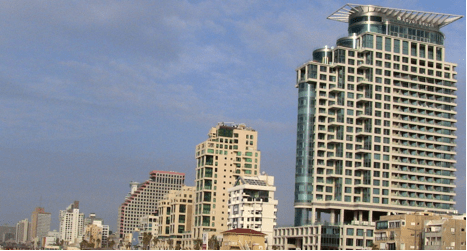 As you continue walking up the boardwalk you will reach 'The Old Town' and 'Jaffa', the ancient port city famous for its biblical stories of Jonah, Solomon and Saint Peter as well as the mythological story of Andromeda and Perseus. It is believed to have been named for Japeth, one of the sons of Noah, who built it after the great flood. This was my first 'wow' moment when I realized where I was standing, a 4,000 year old port city that served Egyptian and Phoenician sailors in their sea voyages.
The Old Town is a maze of walkways and monuments and St. Peters Church and that port that reaches into the ocean.
In clock square you will see The Jaffa Clock Tower, one of seven built in Palestine during the Ottoman period by the Turkish Sultan Abed-el-Hamid II in 1906.
After my walk through Jaffa and Old Town I had my first of many falafels and went back and sat along the boardwalk and watched as people went about their daily lives and thought to myself I could be in any major city in the world and the same thing would be happening, people living. The longer I sat the more intrigued I became, to sit there and think to myself all the multitude of people refusing to visit this country. This could've been a day in Boston or New York. Let go of your fears people and come see all you're missing.
Rothschild Blvd.
Each block offered something different from monuments to playgrounds, some even had volleyball nets and on one block people were playing a game. I had no idea what it was but they were all having a great time and so was I. The more I walked, the more the city came alive, as it was getting closer to five pm. On either side there were some of the best cafes, restaurants and bars as well. It was a perfect December night and many had outdoor seating. I'd also come upon young soldiers all in formation in their fatigues, I don't know exactly what was going on, but I did get at least one photo and they got me. As I would also come to see in my eight days was the friendliness of the Israeli's, whether I needed directions or striking up a conversation wherever it might be. I even shook hands with some of the soldiers.
Tel Aviv has an energy and if I were to take anyone that reads this to Tel Aviv you'd be pleasantly surprised to see what a beautiful, vibrant and exciting city it is with so much to offer. At the end of Rothschild Boulevard is 'Habima Square' which is also known as Orchestra Plaza. 'Habima Theater' is the national theater of Israel.
It is also home to the Culture Palace and Helena Rubinstein Pavilion for Contemporary Art and Symphony Hall. At its center is a beautiful reflecting pond on Saturdays everything is closed in Tel Aviv, it is a day about family and friends.
At nightfall, the city is even more alive , seven days a week, from the small bars to the large nightclubs, Tel Aviv at night is even more exciting, if that's possible.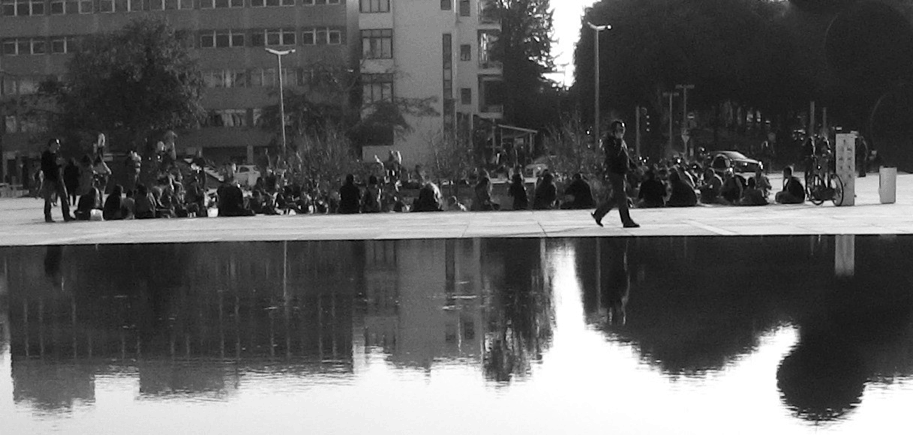 The Old City Jerusalem
There are multitudes of places in this world when you enter the feelings, the emotions, the joy or sadness overwhelm and consume in ways you never thought possible, it reaches deep down inside you and touches your soul, 'The Old City' is one such place.
After the bus ride from Tel Aviv that was the first place I would go and what a moment it was when I did enter once again that 'wow' moment when you realized where you standing and all it meant to every single human being on the planet, I was standing where it all began.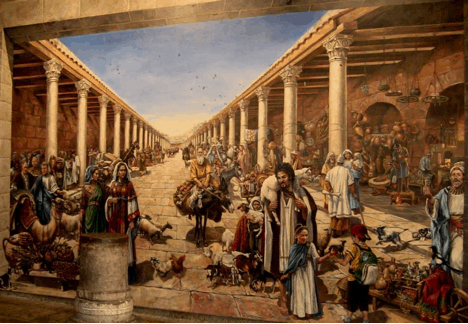 It is divided into four quarters each one as fascinating as the other, each one telling its own story. And with each turn or each new section the fascination only grows more and more. The Old City is walled within modern Jerusalem and it is just fascinating. The moment you enter there is such a sense of peace, serenity and most of all safety. You put aside your fears and truly immerse yourself in this one place in the world every single one of us can be a part of.
The Old City is home to several key sites of religious importance: The Dome of the Rock and al-Aqsa Mosque for Muslims, the Temple Mount but the jewel in this crown of The Old City, one of the most recognizable structures in the world and what has to be the most important site for Jews around the world is 'The Western Wall.' If you see just one place inside The Old City this must be it.
This is what inspiration is, the place where we are one despite the many that surrounds, that place where we hope our prayers are heard and hopefully answered. The one place in the world where anyone of any faith can stand with another person of another faith and for a few moments each one of us all share, hope and pray and believe that better is possible.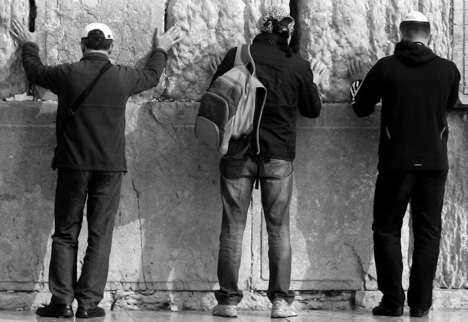 This is Jerusalem
…this mountain I must climb…
Once outside The Old City I started my move towards the Mountain of Olives and what is outside is just as fascinating as the inside. And what is on the outside of these four walls is just as fascinating, from the ruins that surround it to the ancient cemetery that faces it, it is believed to be the place from which God will begin to redeem the dead when the Messiah comes, Jews have always sought to be buried here and standing above it all is the great Mountain of Olives.
The tombs in The Kidron Valley were present in the days of Jesus, it is believed that he passed the tombs. Each one of these tombs offer a connection to the resurrection.
The Jewish Cemetery on the Mountain of Olives is the most important and ancient in Jerusalem, it started burials 3,000 years ago and today it contains 70,000 tombs, some of them the most important in Israel's history including Menachem Begin, Israel's sixth Prime Minister.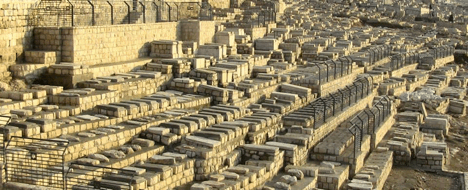 Jewish tradition says this is where The Resurrection of the Dead began. Once the Messiah appeared on The Mountain of Olives and walked to the Temple Mount.
I started my walk up to the Mountain of Olives and while it is one of the steepest climbs I've ever walked, it is worth every single step. Once you reach the top of this mountain the view is breathtaking, and it captures you, and you stand and just stare out onto Jerusalem, this canvas of such peace and serenity, something so majestic it is a place we all must see before we close our eyes for that final time.
Perhaps travel cannot prevent bigotry, but by demonstrating that all peoples cry, laugh, eat, worry, and die, it can introduce the idea that if we try and understand each other, we may even become friends.

Maya Angelou
I will forever believe that no matter what a country has to offer from its history to its attractions it will always be its people that define it when a simple handshake can change an entire journey. I have been to many countries where the handshake was not returned and in that instant the beautiful city I was in had lost some of it.
In Israel, everyone shook my hand and I shook there's and these were the moments that took a journey to another level, when complete strangers from different worlds find that common ground and a friendship is born and for whatever amount of time. When people ask 'are you having a good time?' instead of 'why did you visit Israel?'
You find interest and fascination in one another. From the eighteen-year-old soldier I sat next to on my way to Jerusalem to the bartender at the Tel Aviv Museum of Art and every single hand I shook during my eight-day adventure. It is the people that live there, they share their life with you as you share yours – ideas and ideals, you break down barriers, stereotypes and even myths and you see while as different your lives are they are very much the same when we cut through, clarify and define who we are.
These are the 'why' moments, these are the reasons why we travel, why we board an airplane, cross the world and enter the unknown, this is why we put aside our fears and visit that place we've wanted to visit more than any other, THIS IS WHY I WENT TO ISRAEL.
Epilogue
Some countries give those wanting a beautiful beach made up of white sand and crystal clear blue waters where every single day sun shines down through a cloudless blue sky just that. Other countries give those seeking adventures in the great outdoors wanting to be one with nature just that.
Some countries give you that thriving metropolis and some give you that spirituality you have been seeking, the pilgrimage you've needed and it is the rarest of countries that give you all of that and Israel is one such country.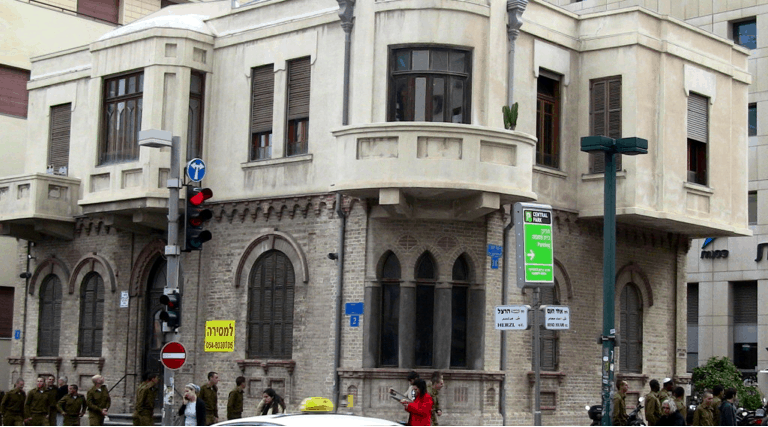 I have spent eight amazing days and without question this will stand among the most incredible journey's I have ever taken. Tel Aviv is a modern metropolis that can stand with any major city in this world and hold its own. It is alive, vibrant and passionate. Its soul is it's people and they are among the nicest I've ever met in all my travels.
Once again I tell you no word or words can describe that moment you enter The Old City and the fascination you find equals the fascination outside. And walking through modern Jerusalem is the final piece of this puzzle. Conflict is universal and I can understand and appreciate hesitation but anyone that may read this thinking about visiting Israel – DO IT!!!! Come and see this country let it absorb you, see it, touch and feel it. Let it embrace you and cuddle you and if you put aside your fears Israel might even change you.
When I returned to work the chorus of 'why Israel?' was now 'how was Israel?' and my response 'Go, go to Israel.'
The Soldier and Me
By Aron G. Foster
'…we should say unto all and I'll say it again, it's not just to win, shake a hand, make a friend…'

Curtis Mayfield
One of the great things about travelling alone is you meet so many more people along the way. A simple introduction or handshake can be the start of something amazing and you meet someone who fascinates you and you might fascinate them, and a simple conversation is anything but, two people from different worlds find whatever that common ground might be and you see what power a simple introduction can have. So what could an eighteen year old Israeli soldier have in common with a forty five year old black man in the hour bus ride to Jerusalem we would find out.
Only single seats remained and like any other bus in any other country no one made any effort to offer you a seat. People either sit on the aisle so you have to climb over them to seat or they'll put their bag on the aisle seat indicating they wish to sit alone. Well this was the case when I boarded the bus to Jerusalem, nothing but single seats and not one person willing to give up that precious single seat. Finally I reach the end of the bus and ask a soldier if I may sit with him and he immediately removes the bag in the empty seat for me.
'Thank you' I said 'you are welcome' he replies, 'where are you from?' 'Boston' 'are you on holiday?' 'Oh yes' 'why did you come to Israel?' 'You sound like everyone back in Boston' he laughs, I've always wanted to see your country' 'You are alone?' 'Oh yes, it's the only way I travel.' 'Really, why' he replied, 'because I hate people.'
'You are in the military I see.' In Israel it is required when a man turns eighteen he enlists in the army for three years, it is two years for women. 'I am six months into my assignment.' 'How are you liking it?' 'I am liking it a lot, my two brothers are currently serving and now it is my turn.' His eyes were wide open with an excitement and anticipation but like any eighteen year old I am sure there was a sense a fear. 'Have you seen any combat?' 'Not yet?'
I looked down at his ipod and ask 'what kind of music do you like?' 'No one you've ever heard of' 'I have no doubt, just like I am sure you've never heard of the people on mine, and with that we exchange ipods and start scrolling away – 'who the hell are these people?' 'Who the hell are these people he responds?' 'Stevie Wonder, Marvin Gaye, Tina Turner, I've never heard of any of these people.' 'Hold on, you've never heard of Tina Turner?' 'Tina Turner!!! 'No I have not' 'what's love got to do with it, the best, we don't need another hero' 'I have never heard of her' 'Wow I replied.'
'How many artists of mine have you heard of?' 'None' I responded, 'well why not?' 'Ok, ok you are right.' 'But you should still know who Tina Turner is.'
'Who are the Red Sox?' he asks – 'they are the baseball team of Boston, they won the world series this year.' 'Are you familiar with baseball?' 'I am not.' 'ok I will let that one slide.' He laughs, what sports do you like?' 'I love soccer and basketball.' 'So you've heard of the Boston Celtics.' 'No' 'Any other sports, I like tennis.' Yes!!!' finally something we both like.' We both laugh at that.
He says 'let's see if we like the same players' 'who's your favorite male player?' 'Rafa Nadal, and yours.' 'I love Rafa too, but Novak is my favorite.' 'I like him too.' 'And the ladies' he asks me and before he could finish the sentence – 'Serena Williams, the greatest ever.' 'You?' I ask. 'Serena as well, the lady is unstoppable.' 'Yes she is, I bet there are some men she would beat.' 'I am sure there are plenty.' 'Finally something we agree on' he says.
'So your friends in Boston all asked why would you visit Israel?' 'Yes, they all thought I was crazy.' 'I don't have to tell you the reputation the Middle East has around the world.' 'And that didn't stop you?' 'Absolutely not, I have no control over this world and anything that'll happen on any given day.' 'Conflict is universal and you can't let it stop you from living.' 'Wow' he says. 'Why do say that?' I ask. 'If anyone told me today I'd meet a forty-five year old black man from Boston on a trip to Israel by himself I would've called them crazy.' 'Well if anyone told me today I'd meet an eighteen year old Israeli soldier who's never heard of Tina Turner I'd call them crazy.' We both laughed.
'Do you have any sisters or brothers?' he asks. 'An older sister, she lives in Alabama with my mother.' 'It is just the three of us.' 'My mom is worried most about me being here' 'Why's that?' 'It's her job too, I travel alone, in some cases going to parts of the world that are in conflict or can't escape their past, but she's a mother and me being the youngest, I am her baby as she and my sister put it, she's going to worry.' 'Even when I'm in Boston she worries, every phone call ends with 'be safe, be careful.' 'Mother's will always worry.'
'Your mom must have her days of anxiety with three sons in the military?' 'I am sure hers must be even more stressful.' 'Is it just the three of you?' 'It is' he responds 'so I can only imagine the height if her stress.' 'But like you said, 'mothers worry.' 'And they will until the end of time.'
'Do you ever want to visit the US?' 'Of course I do, but I want to see Europe first.' 'Well if you ever make it to Boston, you have a friend.' 'And you have a friend in Israel.' 'Well all right.' A few moments later we arrived in Jerusalem, shook hands and I wished him well and went our separate ways.
I've been thinking about him a lot of these last few weeks, hoping he is safe. It is people like him that we meet along the way that can make a journey so much more. I'd meet many more people during my eight days in Israel but this young man stood out more than any other and I don't know the exact reason. It is moments like this that can make a trip that much better, when you find fascination with someone you should have nothing in common with.
There is something to be said for all of us that prefer to travel alone, going where we want and when we want it allows us to truly experience a country and meet those that call it home. And so often we see that while we may be from different worlds we all live in the same one. And a one hour bus ride to Jerusalem proved just that.
by Aron from www.everyjourneybringsmecloser.com