WiFi for travel is essential. I cannot be without an internet connection for more than a couple of days. When researching accommodation, I immediately dismiss any place that does not have wireless broadband (and demote those that charge exorbitant fees for it). Increasingly, however, I find that my roaming internet needs go beyond just the hotel room. We have tablets and a smartphone, which aren't too useful when they are offline. I tried to stay connected on my smartphone's mobile SIM card last time we were overseas and it was too complicated to connect. The WiFi hotspot provided in libraries, bars and cafes isn't always a reliable solution either. These connections can be difficult to come by and are usually slow when they are provided because everyone else is using them. These connections can also be insecure.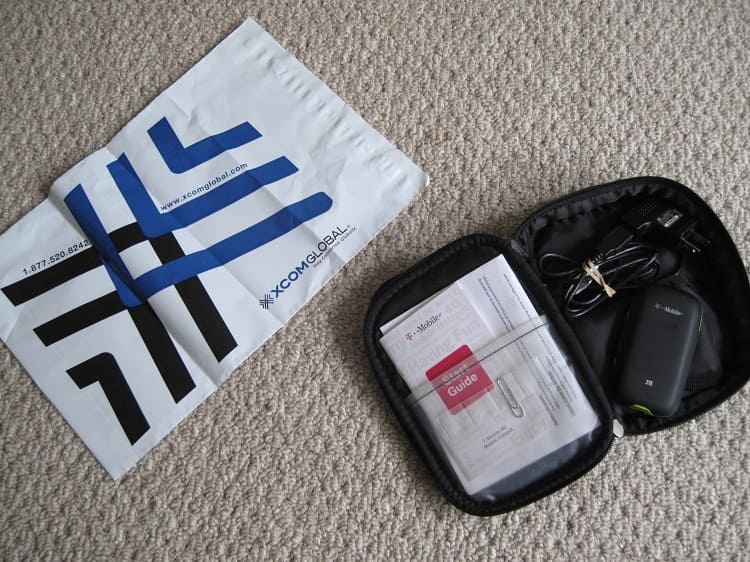 Enter a brilliant solution for the digital nomad. XCom Global offers international 3G mobile internet access in 175 different countries via either mobile hotspot or USB modem, which essentially gives you a wireless travel router. We tested out their services during our recent trip to New Jersey, where we stayed with older family members who don't have internet access at home. All I had to do was place my order, providing the address where the device was to be delivered. Afterwards, I was told, it would be easy to return the device using an included pre-paid envelope.
The day we arrived at the house, the device had already been waiting for us a couple of days before. I opened the package to find a slim little MiFi device, instruction booklet and the cables we would need to keep the device charged. Within minutes I had powered it on, selected the correct network on my laptop and was happily checking my emails. Everyone else in the house also had access so we could use our multiple devices. We enjoyed fast, uninterrupted service for the duration of our stay.
On the day it was time to return the device, I packed everything up in its little carry-case, popped it into the pre-paid mailer and took it to the nearest FedEx drop-box. These are easy to find on the FedEx website via a simple address search. There were many drop-boxes in the local area, the closest one being less than a mile from the house. Too easy! 
XCom has a number of plans and special offers, including support for those travelling to multiple countries on the same journey. This is essential for those of us who take longer trips. And the cost of staying connected constantly is a very reasonable US$14.95 per day - that's for unlimited usage. I highly recommend this service and we'll definitely be using it again on our travels.
Visit the XCom Global site and stay connected wherever in the world you may roam.
XCom Global hosted our trial of their service. As members of their affiliate program, we receive a commission for services booked if you reach their site via the links within this post. All opinions, however, are always our own.
You may also enjoy these similar posts: