One of the things that surprised me on my latest visit to Israel was the quality of the food in Israel and how I actually liked their locale cuisine a lot more than I was expecting it to before I left!
Maybe it's because my first encounter with Middle Eastern and Mediterranean food was on a very basic tour in Egypt, that I wasn't expecting much from the Israeli food either. Falafel and hummus were the first things that came to mind and somehow I remembered the dull tomato and cucumber salads we had for lunch in Egypt on numerous occasions.
I should have known better! 
One of the reasons people go on a tour with Puzzle Israel is the fact that the owners, Guy and Nir, are two former chefs ... and boy, they didn't disappoint!
They took us to some of the best restaurants in Tel Aviv and Jerusalem and to some hidden gems around the country.
They showed us how Israeli cuisine is a unique fusion of cultures and religions, each bringing their distinctive flavors and specialties to Israel: the Arabs, Bedouins, Circassians, Druze, and Jews from the diaspora, all had a hand in making Israeli cuisine the delicious delicacy it is today.
Israeli breakfast
Forget ham and bacon for breakfast . In accordance with the Jewish laws of Kashrut, meat and dairy ingredients are never served together in a meal, and pork products are forbidden.
However, I never ate more for breakfast than I did in Israel!
Actually, I never ate more, period!
The Israeli breakfast is a large dairy and vegetable buffet with a variety of cheeses and small dishes like hummus, baba ghanoush and a lot of fresh vegetables like tomatoes, cucumbers, green peppers, radishes and onions.
The Middle Eastern egg dish shakshuka, eggs poached in a tomato and vegetable sauce, was one of my favorites together with Labneh, strained yogurt served in olive oil.
One of the best breakfasts we had was when we stayed at Shulamit Yard in Rosh-Pina. The owner is very warm and welcoming. She makes her guests feel like friends and prepares a wonderful homecooked breakfast each morning.
Puzzle Israel Catering
Nir and Guy's passion for cooking in general and Israeli food in particular provides a special dimension and added value to each of Puzzle's travelers. Throughout each trip, Nir and Guy expose their guests to different Israeli cooking techniques, local markets, and exciting hands-on food activities.
One of the strengths of Puzzle Israel is their own catering team. Nir, Guy and Aner cooked some amazing dishes while we were on the road exploring the more off the beaten track parts of Israel.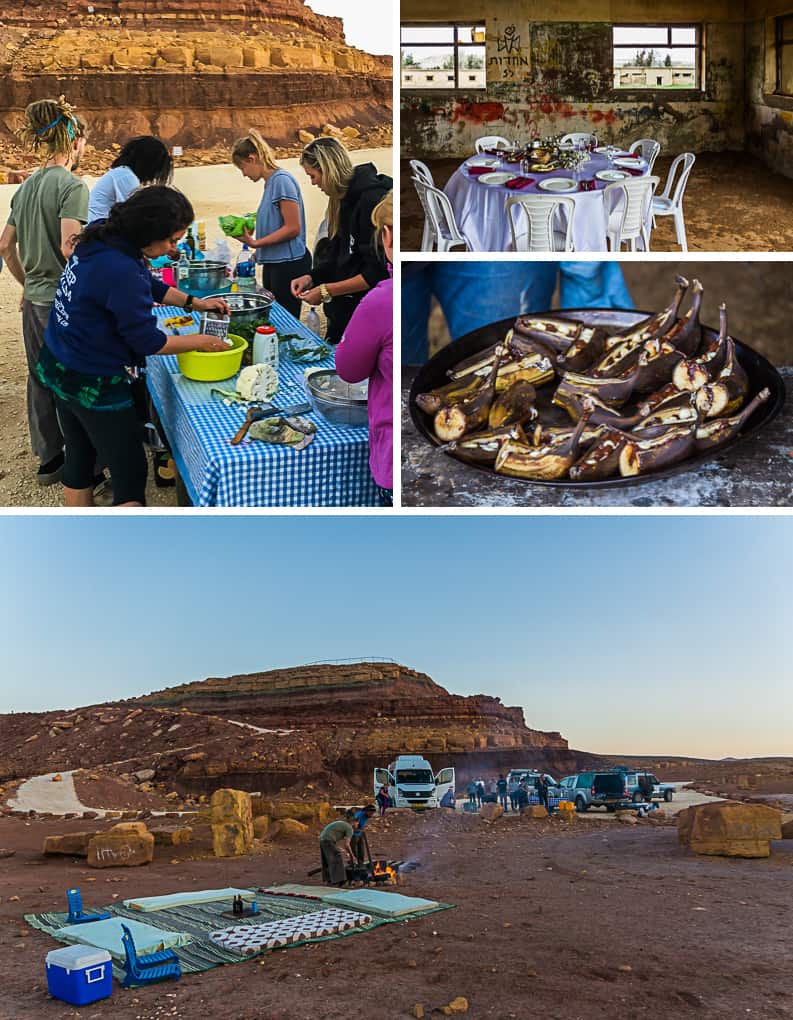 Jerusalem
When it comes to food, Jerusalem is both innovative and contemporary. This diverse city offers everything from sushi bars, including Armenian, Kurdish, Arabic and Jewish eateries, which nestle in their own corners of the Old City.
One of the hot spots for food in Jerusalem, is the Machane Yehuda Market. It's a mixture of both a bustling marketplace and a neighborhood, it incorporates food, shopping, bars and restaurants in one c.
My favorite Jerusalem restaurant in Machane Yehuda was definitely Yudale.
Yudale offers a small space packed with fun and coolness. The food is amazing and the drinks are excellent. It's like being invited to the best house party with a series of all-star chefs putting in a performance right in front of you! This is one of the coolest places in Jerusalem, serving outstanding Israeli food.
Tel Aviv
Like Jerusalem, Tel Aviv has loads of amazing restaurants featuring cuisine from around the world.
With our Puzzle Israel group, we had a great dinner at Shulshan.
But one of the more "special" dining experiences of my life I got at Blackout.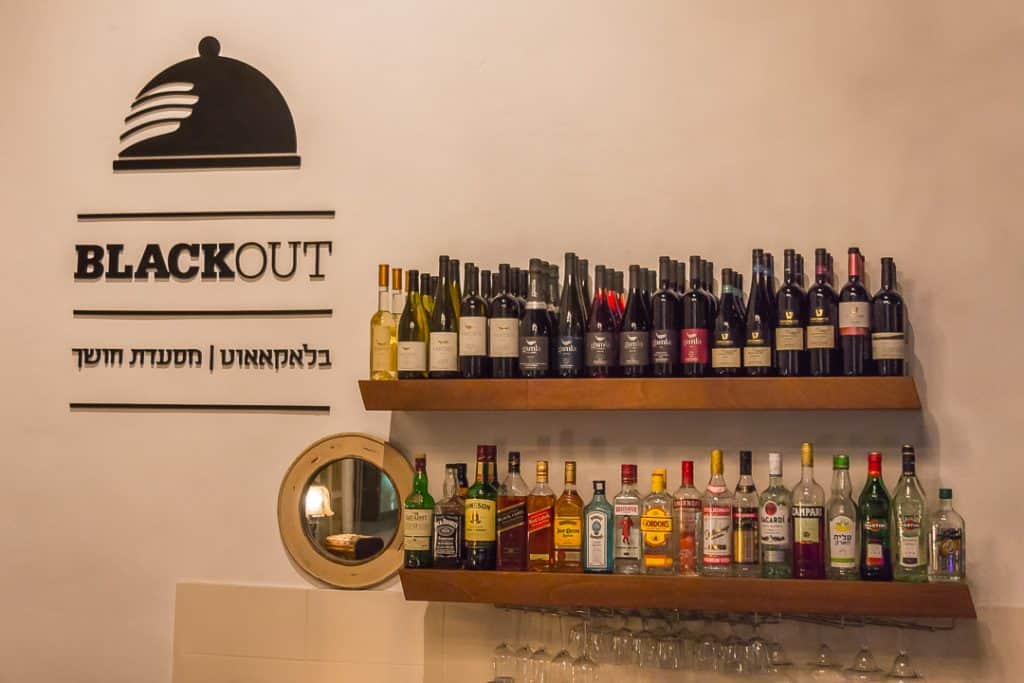 Located in the old Jaffa Port, Blackout is the only kosher dark restaurant in the world. Blind and visually impaired waiters escort you to your table and serve you food in a pitch black room. A culinary experience you need to try at least once. Needless to say, I couldn't take any pictures of the food 😉
Other hidden food gems around Israel
Sins
In Sderot one hour drive from Tel-Aviv and around one and half hour drive from Jerusalem, you will find my first hidden gem in Israel: Sins
Located behind a neglected gas station in a scrubby shack, you wouldn't say that "Sins" would be an interesting place to eat at.
However, the service and food were perfect. Some of the best seafood dishes I had on my trip to Israel!
Ja'uni
Besides a good breakfast, I also had a great Shabbat dinner during my stay in Rosh Pina in restaurant Jauni. Besides the delicious food they also serve you some wooden puzzles and mind games for your group to play with while waiting for your meal!
Norah's Kitchen
Traditional Druze cooking in Daliyat El-Carmel at its finest. Chef Nura takes private bookings so your best bet at scoring a prized seat in her dining room is to ask some local Israelis to help arrange things.
Israeli recipes
Finally, I would like to leave you with two recipes from Puzzle Israel's Israeli cookbook for two of my favorite 'Israeli' dishes I helped cook on this trip and which you can easily prepare at home: Focaccia with herbs and garlic and a Beets and Carrot salad.
Focaccia with herbs and garlic
Start with preparing the dough like this:
Now here comes the twist! Instead of baking the bread so thick, use your fingers, gently pull the ball of dough apart, stretching it to form a large oval-shaped piece of dough
Sprinkle with salt, pepper, rosemary and thyme and bake on a plate in a hot oven:
Beets and Carrot salad
In a large bowl, cut 2 large beetroots and 2 large carrots in julienne , together with some chopped and roasted walnuts, raisins and some cilantro.
Make a dressing from the juice of 1 lemon, some extra-virgin olive oil and some salt and pepper
Add the dressing to the salad and refrigerate for 30 minutes
Serve chilled.
I really hope these stories and Israeli recipes inspired you to discover more about the great food culture in Israel ...
Yalla! Let's Cook!
If you too want to discover the real Israel and have the same experiences as I did, now is your chance!
Just contact Puzzle Israel and mention that Geert from Inspiring Travellers sent you, and they promised to give you a nice discount and the same VIP treatment that I received!
Disclosure: While I was invited by Puzzle Israel to join one of their group tours, all opinions are my own and I can't recommend them highly enough!