Danielle: Most of what we hear about Africa from the media is about conflict, HIV/AIDS, famine, and disease. As a result most of us are aware of the problems, but feel powerless to do anything about them. We are made to feel that Africa is a lost cause, a place that will always be the way it is. Worse yet, many of us don't travel there, worried about our safety, scared of what we might see. While some of us will travel here to see the World Cup or head on a safari, a lot of these packaged vacations are tightly controlled, bringing you a very sanitised experience. So we embarked on this journey because we wanted to see it for ourselves. We also want to write about things going right, or so called "good news," stories about hope and success, visiting projects led by Africans working to alleviate hunger and poverty and protecting the environment. We are meeting with farmers, workers, organizations, NGOs, media and even governments wherever we go, learning as much as we can, and sharing what we see.
Is this your first time in Africa?
Bernard: Danielle has traveled to Nairobi and Northern Africa, and I'd been to South Africa before. The difference with this trip is that we are visiting rural communities, travelling to villages, and really meeting and connecting with people. Also, this time our travel is on a shoestring budget, forcing us to stay with families, take long-haul buses between countries, and public transportation. We've travelled to seventeen countries so far, and most was by shared-taxi or bus, so we've had a chance to really take in the landscape and absorb our surroundings.
Your goal is to travel to nearly every country on the continent. What similarities and differences among regions and countries are you finding as you make your way around?
Bernard: We see more similarities than differences. In all countries the people were friendly and welcoming, mostly excited to share with us their work and projects. Everywhere people seemed to share the same general hopes and dreams for themselves and their families. We've also almost always been able to communicate, even when language is a barrier. Dani is a vegan and I am vegetarian, and we've found that families, restaurants, etc, go out of their way to accommodate us. With that said, East Africa goes out of its way, making a point even in tiny corner restaurants to list at least one vegetarian meal. In Eastern Africa, we found the people a bit more reserved (still very friendly), while in Western Africa it is much easier to break the ice.
In terms of crossing borders, Eastern Africa and Southern Africa are much easier by long-haul buses, with most countries selling visas upon arrival, and established companies provided safe routes. In Western Africa most countries require visas in advance with fewer reliable international bus options.
What are the most important issues Africans are currently facing and how do you think your work will benefit them?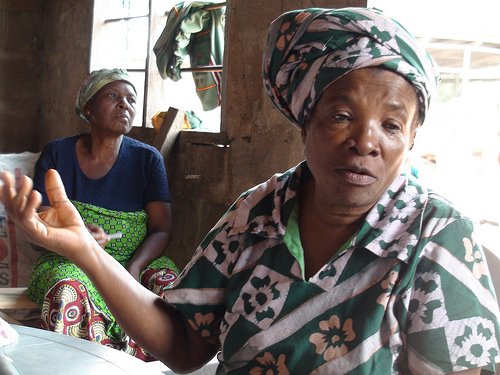 Danielle: Hunger is the biggest issue on the continent, we are hoping that by highlighting the different projects going on, we can help shine a light on them so that they can be replicated or scaled up. There is no shortage of good ideas here, but they just need greater attention and investment.
Bernard: HIV/AIDS is still a huge problem on the continent. We've seen many innovative projects to address it -- from resource centres at border crossings to educate and test truck drivers, to visiting factories who are partnering with unions to provide trainings at work-sites, and school and orphanage projects to help children who've lost their parents to the disease.
What is your favourite place in Africa so far and why?
Danielle: Kigali, Rwanda. It's another place that, despite all the terrible things that have happened over the last couple of decades, the people have an incredible spirit for hope and change. Our visit to the genocide museum was a very moving experience. Also, the landscape is so lush and beautiful
Bernard: Ananarivo, Madagascar. People told us it was too dangerous to visit due to recent political conflict. We are glad we didn't listen. Everything about it was magical, the cobblestone rodes, the vibrant people, cute cafes and restaurants. With few tourists and most of the NGO community gone, we saw firsthand how much the country suffered as a result of this. Lots of abandoned construction projects, etc. For Dani's birthday, we went lemur trekking in the rainforest, and that was just amazing.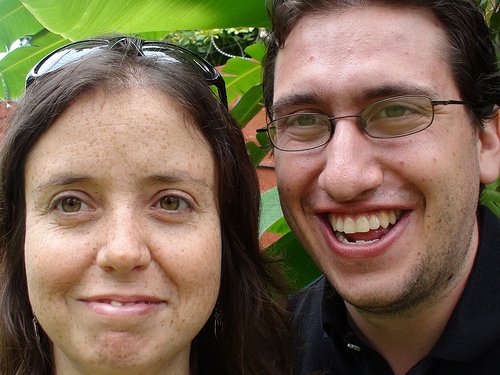 What have been your biggest challenges in Africa, both for your project work and personally?
Danielle: When we started, we were working 18-hour days, packing in project visits, and our [heads] felt like they were going to explode at the end of each day. We are now letting ourselves have more fun -- making sure to check out live local music, try new foods, spend time on the beach, visit markets, go dancing and participate in cultural activities.
Do you have any advice for people looking to travel in Africa?
Bernard
: One of the best ways to travel is through volunteering or community work. Tons of organizations can help you get your hands on African soil (and have fun while doing it), but also plan additional time for self-exploration. For example, if you're curious about Madagascar, check out
Reef Doctor
. You can get free diving training and certification and conduct hands-on marine research, all while working with local fishing communities in the third largest coral reef system in the world. If you are a student looking for a semester abroad,
WorldTeach
runs a terrific program in Namibia. You can teach a number of different courses for elementary and high school children, including English, mathematics, science and computer studies. This is just the tip of the iceburg: a quick search on
Idealist
offers hundreds of options and opportunities. An interesting project is a great way to start your travels...
Danielle: Don't be afraid of Africa. There are so many misconceptions about what goes on here, but don't believe them. It won't be a normal tourist experience, but that is a good thing, because you will never forget your time here. Everyday you will learn so much, things you never expected, and meet incredible people
What will be the outcomes of your project?
Danielle: We are sharing our experiences through my blog for the Worldwatch Institute's "Nourishing the Planet" project. The project will culminate in Worldwatch's annual flagship publication, State of the World 2011: Innovations that Nourish the Planet, which will provide a road map for policy-makers and the funding community for alleviating hunger and poverty.
Danielle Nierenberg and Bernard Pollack are currently travelling across Africa. Nierenberg blogs every day at Worldwatch Institute's Nourishing the Planet. She is Project Director of State of World 2011 for the think tank and also writes for several newspapers. Pollack is an expert on local labour movements and in communications, and his travel writing has also been featured in several newspapers. You can learn more about the pair and their adventures and work in Africa on their own blog, Border Jumpers.
Have you been to Africa? What was your experience like?