Aruba restaurants
Aruba restaurants come in all shapes and sizes and there's a perfect place to eat for everyone. You can go barefoot and have dinner with your feet in the sand somewhere on the beach one night and dress up and go for a more fine dining experience at an authentic Aruban Cunucu House the next.
Food in Aruba is like its population: a melting pot of different nationalities.
Aruba's culinary offering highlights its Amerindian, Dutch and Spanish heritage, as well as more recent influences, as other nationalities have called the Caribbean island home.
Foodies will love the variety on offer, from the freshest seafood and traditional fish creole to Aruban polenta, known as funchi and served with rich stews.
I was lucky enough to have a local take me to several Aruba restaurants, so scroll down this page to get an idea of the best places to eat in Aruba or just choose a style below:
LOCAL PLACES TO EAT
Zeerover Aruba
Savaneta 270, Savaneta, Aruba
One of my favorite things to do when I'm abroad is to try local food, preferably where the locals eat and Zeerovers fit this bill completely! A bit of a hike from The high rise hotels but well worth the trip, this is one of the best know Aruba seafood restaurants.
This local restaurant serves seafood right out of the ocean. The catch of the day might include wahoo, snapper, barracuda or kingfish, and when available, big shrimps. All of these can be accompanied by fries, plantains, onions in vinegar (pika), and pan bati (Aruban cornbread).
The way it works is, you go stand in line to order the amount of fish (catch of the day), shrimps and sides that you want, and then you are assigned a number. You then find a place at the tables near the water and wait until your number is up.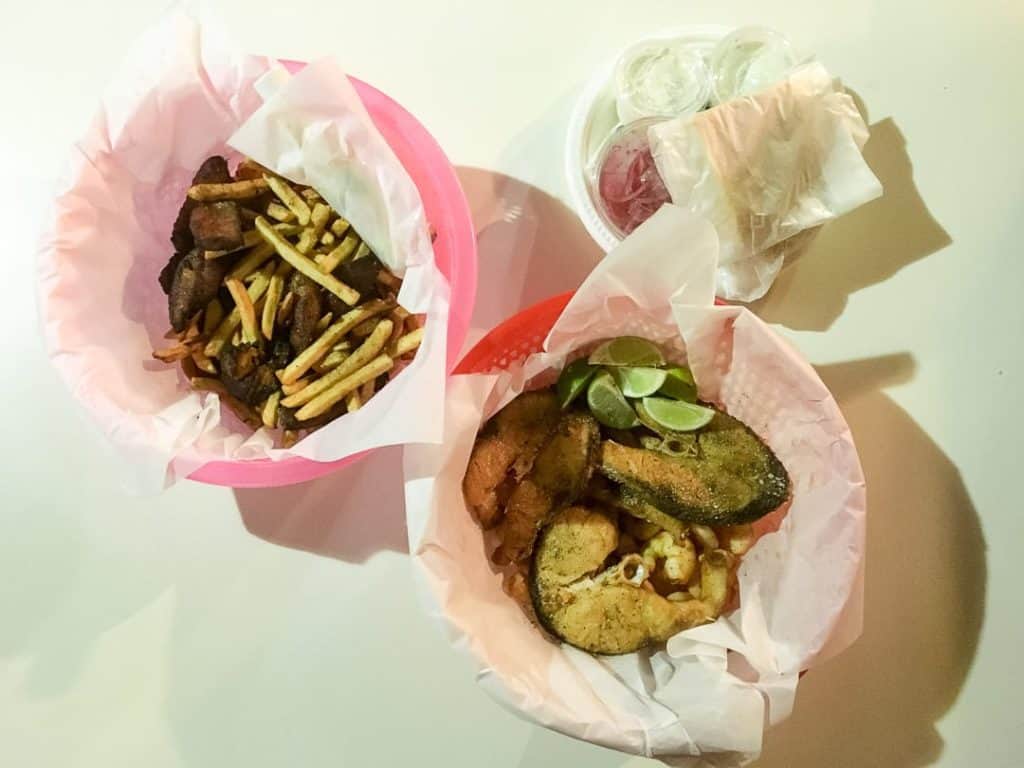 This place is also very popular with the locals, so you might need to wait a while!
But that's all worth it to enjoy great seafood and a spectacular sunset at this restaurant.
Hostaria Da' Vittorio Ristorante Italiano
L.G. Smith Boulevard 380 | Palm Beach, Oranjestad Aruba
hostariavittorio.com
If you are looking for a great Italian restaurant I would recommend to give Hostaria Da' Vittorio a try.
It's conveniently located in the High Rise Hotels area across from the Hyatt Regency.
They say it's the only authentic Italian Restaurant In Aruba, and I believe them 😉
Master Chef Vittorio Muscariello uses authentic Italian products, and the Linguine Dello Scoglio (linguine prepared with extra virgin olive oil, garlic, parsley, fresh cherry tomatoes, clams, mussels, squid, baby octopus and shrimps) was "Delizioso"!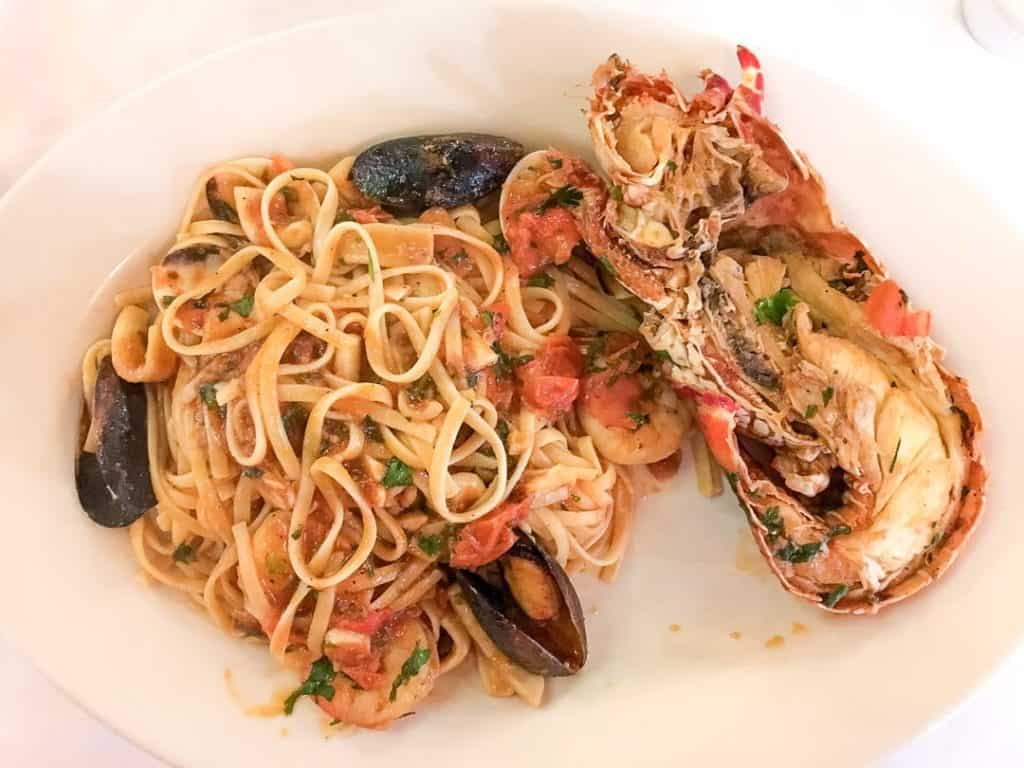 Charlie's Bar and Restaurant
Bernard van de Veen Zeppenfeldstraat 56 San Nicolas, Aruba
While I haven't eaten here, we just had some beers, I still wanted to mention it here since this place is off the beaten path, away from all of the touristy areas, and a "must visit" when you come to Aruba.
If not for the beer or for the food, then certainly for the eclectic decor!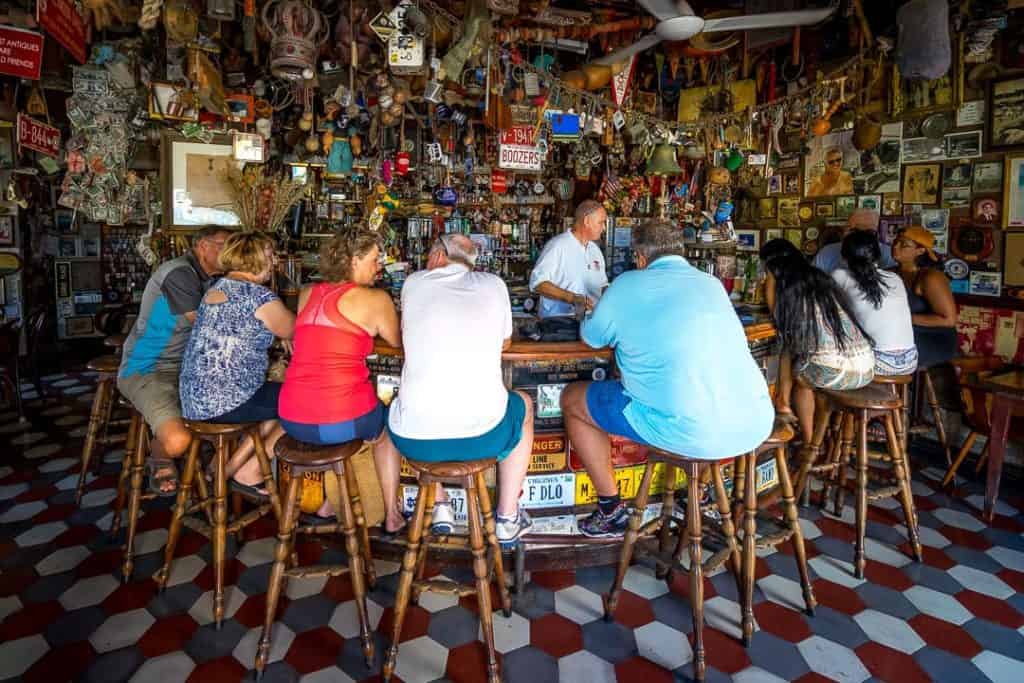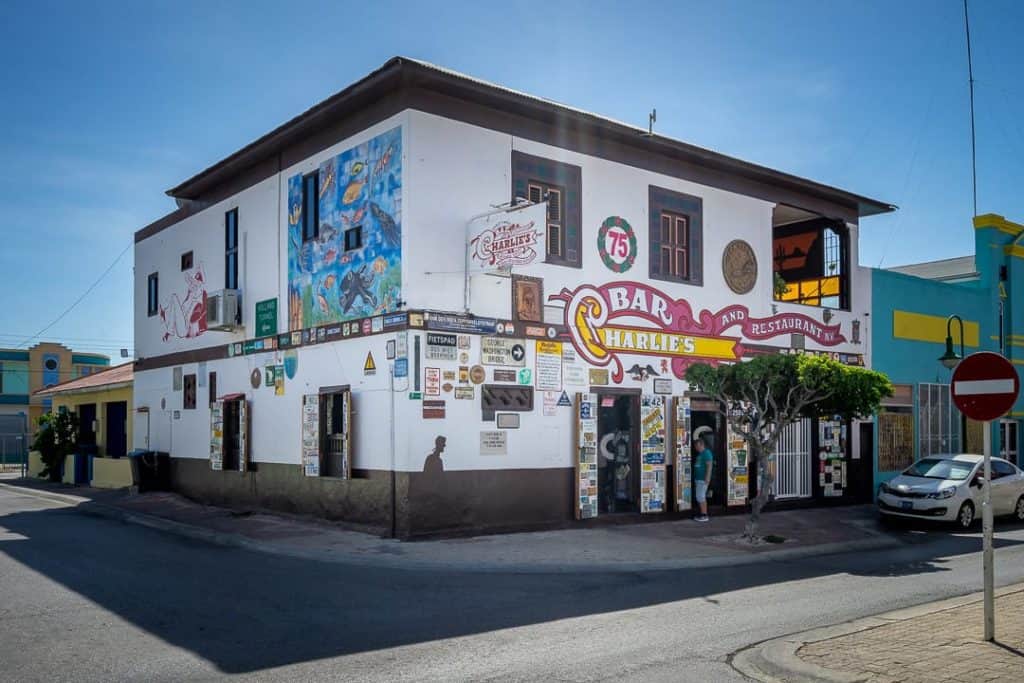 Huchada Aruba
Santa Cruz 328, Santa Cruz, Aruba
This is more of a local bakery, where you can go for breakfast or a quick lunch, than a proper restaurant. They offer a great variety of really good pastries and snacks. It's THE place to try the local pastechi's, a deep-fried half-moon pastry that is filled with your choice of cheese, beef, chicken, lobster, keri-keri and more.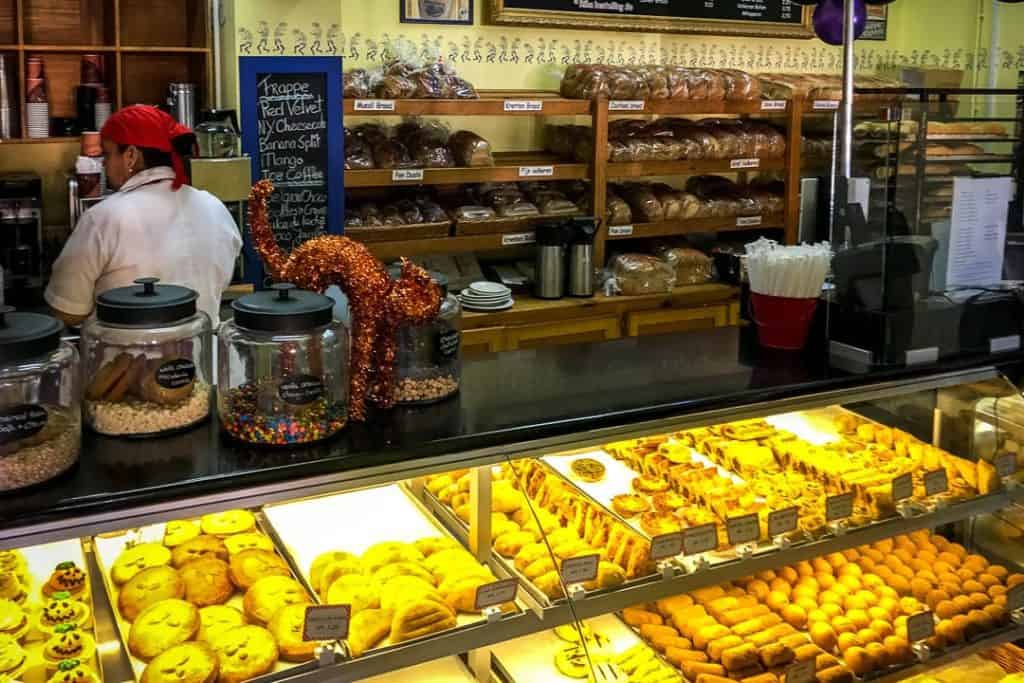 Gostoso
Gostoso serves a blend of both Portuguese and Aruban Cuisine, which is designed to delight even the most discriminating Palate.
I tried an Aruban Stoba (stew) and it was delicious!
ARUBA RESTAURANTS ON THE BEACH
Barefoot restaurant Aruba
L.G. Smith Boulevard 1, Oranjestad, Aruba
www.barefootaruba.com
As the name suggests, this restaurant is perfect for barefoot dining in Aruba. With sounds of the ocean caressing the beach in the background, the tropical breeze through your hair and your feet in the white sand, while enjoying great food, marvelous wines and friendly, yet professional service. Barefoot is certainly one of the places to eat at during your stay in Aruba!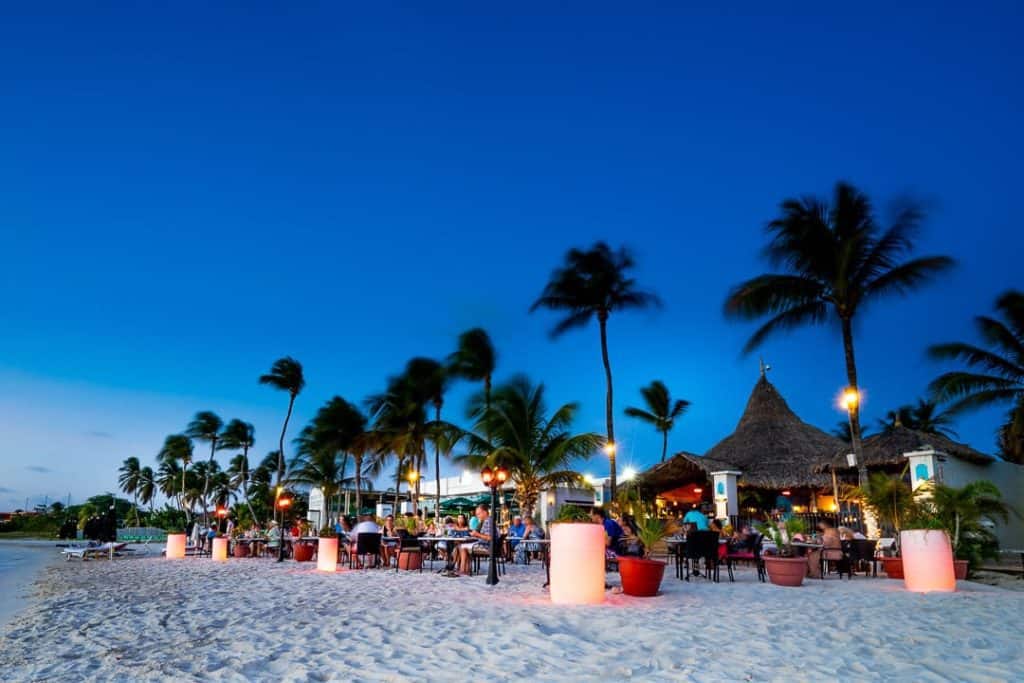 MooMba Beach Bar & Restaurant Aruba
JE Irausquin Boulevard 230, Palm Beach/Eagle Beach, Aruba
We stopped by Moomba Bar for lunch after our morning Kayak tour with Aruba Kayak Adventures. MooMba is right on the beach at the side of the Marriott Surf Club (Vacation Club) and so it didn't feel very 'local' to me but more like a tourist bar in a resort. The food is ok, but if you want to go for a more romantic dinner on the beach I would recommend Barefoot restaurant instead or The West Deck for a more "local" feel.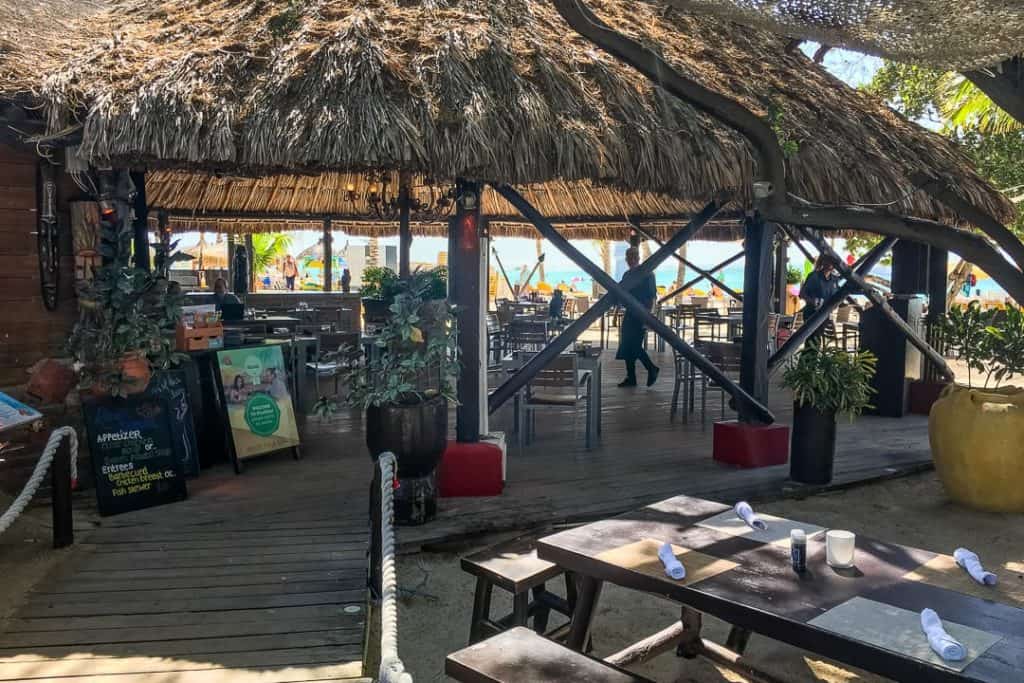 The West Deck
L.G. Smith Blvd. | At the Governors Bay Linear Park, Oranjestad, Aruba
thewestdeck.com
It's located along the Linear Park right at the oceanfront, where you can observe the Pelicans fishing for their meals, on a large wooden deck that overlooks the water and great for both a casual lunch or dinner.
I really liked the very casual atmosphere and the food was amazing!
FINE DINING
Papiamento restaurant Aruba
Washington 61 Noord, Aruba
papiamentoaruba.com
Dinner at Papiamento Restaurant is an experience no one will ever forget. Surrounded by a lush garden, around a turquoise, sparkling pool with twinkling lights in the tree branches, the setting is magical. A beautiful place offering fine dining in a casual atmosphere. Their combined worldwide experience gives their dishes an original flavor with a touch of Caribbean in it.
Screaming Eagle Restaurant-Lounge Aruba
J.E. Irausquin Boulevard 228 | Eagle Beach, Aruba, Palm - Eagle Beach, Aruba
screaming-eagle.net

By far the best place to eat in Aruba has been Screaming Eagle! It's a trendy restaurant/lounge in South Beach: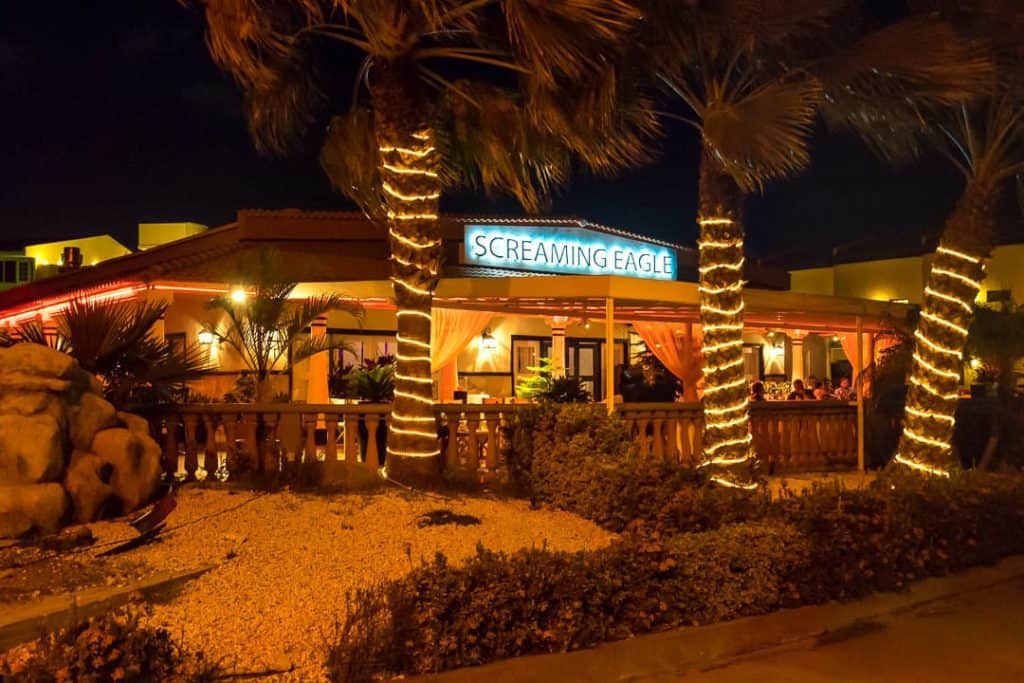 You can eat à la carte, but we went for one of Chef Erwin Hüsken's Seasonal Specials:
Carpaccio of scallops on garlic-lime mayonnaise served with tobiko, grapefruit, rucola, lemon peel and creme fraiche with caviar of Dutch herring
Pan fried maple leaf duck breast served with garlic mashed potato, green asparagus, and red wine-star anis sauce
Café glacé: 3 layers of coffee syrup, mocha mousse, whipped cream with crumble and vanilla ice cream
Delicious!
Besides the good food and the excellent wine, the interior is also pretty special. One of the reasons that people come to the screaming eagle is to fine dine in one of their lounge beds.
It's like you are a Roman emperor and get served in bed by your slaves, haha 😉
My TOP 10 Restaurants in Aruba
So what were my favorite places to eat during my stay? Here is my top 10:
Screaming Eagle Restaurant-Lounge
Zeerover
Barefoot restaurant Aruba
The West Deck
Hostaria Da' Vittorio Ristorante Italiano
Papiamento restaurant Aruba
Charlie's Bar and Restaurant
Gostoso
Huchada Aruba
MooMba Beach Bar & Restaurant Aruba
How can you find these restaurants in Aruba?
If you are a user of Trover (It's a really handy app which I normally use to find local photo spots, but they recently added a food filter to their search as well)  you can find all these places to eat in my "Aruba Places to Eat" list, together with other great food finds in Aruba.
Just follow the list and use the app while you are in Aruba, and you can just select the location and view it on a map!
Aruba Places To Eat - a photo list by Inspiring Travellers
And also follow my other Trover list for cool places to photograph in Aruba:
Aruba Shootspots - a photo list by Inspiring Travellers
I really hope this list inspired you to find some great places to eat around Aruba?
... ENJOY!
Feel free to pin these to Pinterest: