Guest Post by Courtneigh Humphriss
Cape Town is such a diverse city.
It has so many different plant species, people, animals and natural beauties. It is home to the 7th Natural Wonder of the world and boasts the widest variety of cultures packed into one city.
Before I moved to London, Cape Town was my home. Cape Town has a thriving tourist ecosystem. There are plenty of people from all over the world who visit quite often. If you want to make the most of my home city. If you want to pack your visit with the best of they city. If you are looking to enhance your trip with more of a local flavour, then these eight places are for you!
Table Mountain
Table Mountain was most recently chosen to be one of the seven wonders of the world. It is Cape Town's icon and the most photographed object in the city. This mountain is home to 2200 species of plantlife, 1470 floral species and plenty of wildlife to see. You can choose to use the cable car to the "Table of the Cape" top, or you can choose to use the hiking trails for a more active experience. It is admired by the locals as a natural monument of beauty.
The panoramic views from the top give you an opportunity to see most of the city from above all in one go! It is also the biggest landmark in Cape Town, so if you get lost then you only need to look towards the mountain to get your bearings! This is exactly what all locals do.
V&A Waterfront
The Victoria and Alfred Waterfront is basically the hub of the city centre. It has so many features in it and is also the local shopping centre for anyone who lives in the surrounding areas. It is situated in Cape Town's oldest working harbour which was built in the 1860's.
From this harbour, you can get a boat trip to Robben Island. This island holds the infamous prison that Nelson Mandela spent time in before the fall of apartheid. Everyone in Cape Town has been to this island at least once and the trip is worth it for the view you get of Table Mountain!
Although it has some tourist features, the V&A Waterfront also has local hangouts.
The Alba Lounge serves beautiful cocktails and has a very relaxed atmosphere.
You can also try out Quay Four which is a local favourite, a pub style seafood restaurant with perfect views of the harbour and live bands to get the crowd going! If you aren't looking for food and drink, but rather activities then you can go on a choice of sunset cruises, go on a guided bicycle tour or ride the Cape Wheel to watch the sunset. Hint: Capetonians love their sunsets!
The Two Oceans Aquarium
The aquarium is located in the V&A waterfront. In my opinion, you can't do one without the other! The aquarium is so named because it is located where the Atlantic Ocean and Indian Ocean meet. This aquarium displays sea-life from both oceans. It is rewarding to learn the difference between life in the cold water and the warm water. You can book an opportunity to dive and feed fish should you have your PADI open water certificate. You can have a penguin experience, getting to know the Rockhopper penguins.
A positive aspect of this aquarium is that it is all for educational purposes. There are no shows and all of the animals are kept wild where possible. This makes it easier for them to be released into the wild if need be. Walking through the maze of exhibits has always been my favourite pastime and you will not be disappointed.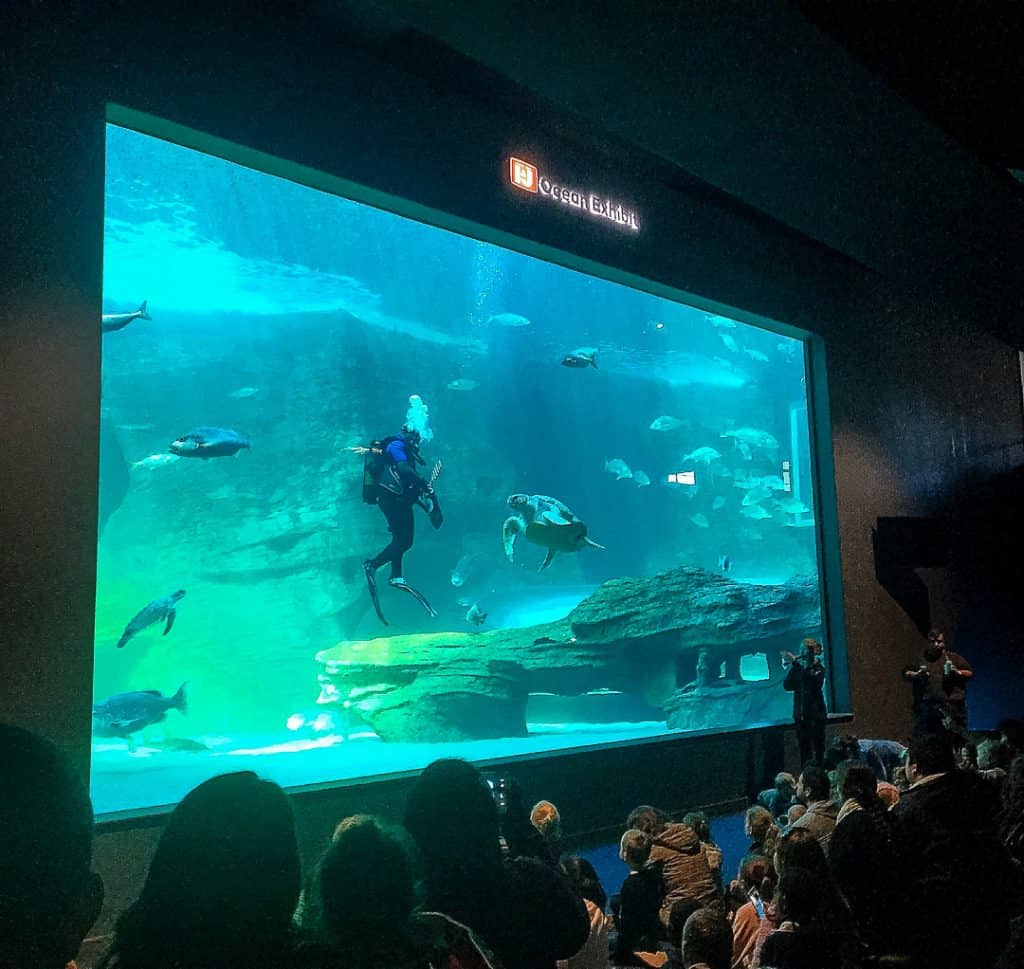 Lion's Head
Lion's head forms part of the Table Mountain range. This trail is more rewarding if you go for sunrise or sunset. You can take it one step further and do a full moon hike which is a favourite for the locals. While hiking Table Mountain is quite a slow and steady climb, about three-quarters of the way up Lion's Head, involves heavy climbing with handholds and rope ladders. This is something to keep in mind if you are not the adventurous type. However, the view from the three-quarter way mark is still spectacular.
One thing to note: It is best to hike this mountain with a group of people or attach yourself to a group already hiking for safety reasons. The view is definitely worth it and best shared too!
Hout Bay/Bantry Bay/Camps Bay Drive
This is by far my favourite thing to do in Cape Town. This drive will give you views you will not forget for a long time! You can start in Hout Bay and make your way around the mountain.
Hout Bay has a working harbour that has many fish and chip kiosks and cheeky seagulls that will try and steal your chips straight from your hand. From Hout Bay, you can drive through Bantry Bay next and on to Camps Bay. They are all on the same seafront road. The views of the ocean are spectacular. There are even picnic alcoves you can pull into to enjoy a longer view of the Atlantic Ocean if you wish. The Camps Bay "finish line" has a strip of bars, restaurants and ice cream parlours where you can sit and watch the sun go down. Or, if you would prefer, walk on to the beach to feel the sand in between your toes.
City Sightseeing buses have this drive on their blue and red routes so if you wanted to enjoy a tour of the whole of Cape Town, this little bit of heaven would be included. They even have a purple tour which takes you through the Constantia Wine Valley. This way you can sample the views and the wine that make the Cape so great! This bus is probably cheaper to do than taking taxis if you want to see all the Constantia Wine farms, and this is why you will find quite a few locals on the bus with you!
Kalk Bay
Kalk Bay is on the False Bay side of Cape Town with views of the Indian Ocean. You can use the scenic Boyes Drive to get there which really shows the sea off. There are coves to pull off the road should you spot a whale or want to linger longer. In my opinion, the best place for authentic fish and chips is at Kalky's.
It is in the working harbour so you can sit in and watch the boats come in with their catch or you can choose to take your food away with you. You can get an ice cream and walk along the promenade, walk along Kalk Bay Pier or sit on a bench and enjoy the scenery.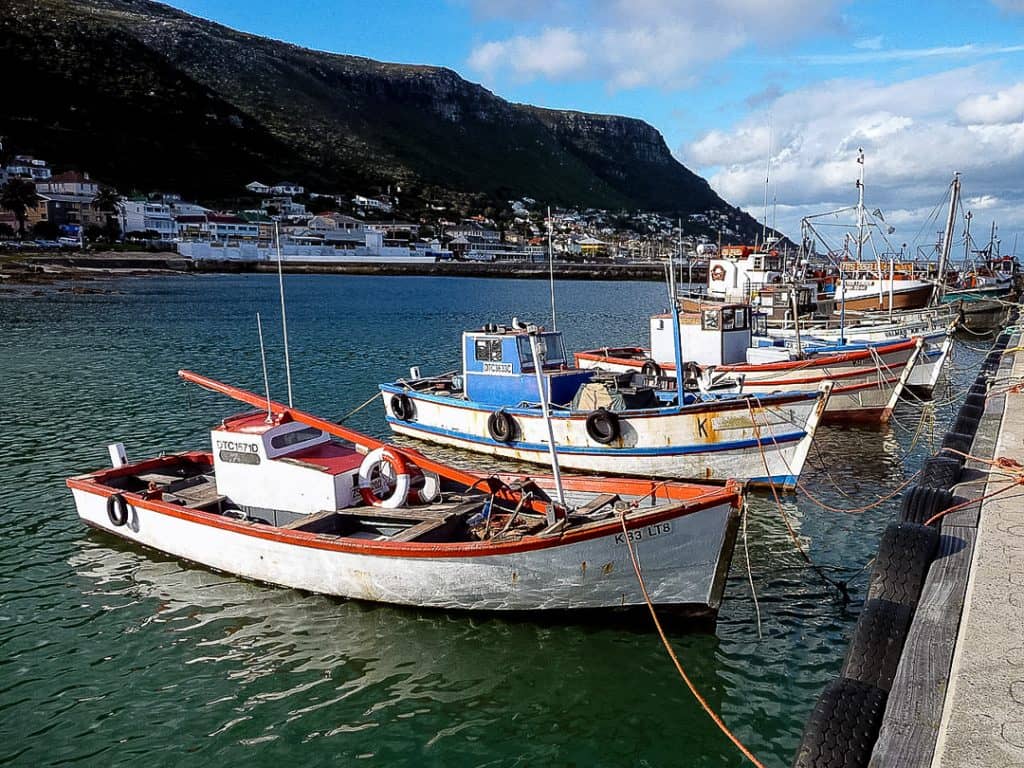 If you would rather go for the nightlife, then another great feature of Kalk Bay is the local hang out "Danger" Beach. This is a tiny tucked away beach area which can be accessed by a subway beneath St James' Station. Although there are no amenities on this beach, it does offer you a quieter atmosphere and great waves for a bit of body surfing. There are signs that warn you of sharks, so it is best to keep aware of your surroundings when using this trendy hideaway beach. I must admit, I have never seen a shark there and I spent most of my teenage years on that beach.
If you would rather go for the nightlife, then Cape To Cuba will give you a perfect sundowner atmosphere, it is also facing the ocean so the view is something you will find hard to beat!
Muizenberg Beach
I grew up in Muizenberg, it is probably one of the most relaxed beaches you will find. Like Kalk Bay, Muizenberg is also on the False Bay side of Cape Town. The beach is lined with colourful "retro" beach huts. You can still rent these for the day should you want privacy to change into your swimsuit. The water is warmer than most beaches in Cape Town and the waves are a good size for those who are learning to surf. This makes it the perfect beach to visit if you really want to get a taste for the local beach scene.
Trendy restaurant and cocktail bar, Tiger's Milk, overlooks the Muizenberg beachfront. It is perfect for sundowners and a quick bite to eat. There are plenty of surf schools in the area if you are feeling adventurous. You can also just hire a board and wetsuit if you want to have a try at teaching yourself how to surf. This beach is always packed with people enjoying the sun because of its warm waters and mild surf!
Kirstenbosch Gardens
Kirstenbosch gardens are hidden in the centre of Cape Town's Souther Suburbs. These gardens are a great place to go picnic, to hike a mountain trail or to watch an outdoor concert. In the summer, the lush gardens have locals sprawled on their picnic blankets. With a great family atmosphere, it is a great place to take kids and unwind. The hiking trails are fairly easy so good for beginners who want a bit of a view. These trails merge seamlessly into the mountain wildlife and also go on to neighbouring Table Mountain parks. The summer sunset concerts that are hosted on a Sunday give you a good sample of African talent from far and wide. There is also an amazing treetop canopy walk, nicknamed "the boomslang" which is an easy way to get fantastic views if you don't want to go for a hike!
So there you have it, 8 key spots to get you started on your Capetonian adventure. My advice? No matter where you go, choose the off beaten track. Choose the little eateries over the big busy restaurants, choose the quiet beaches rather than the popular ones. The beaches with the bluest water, are actually the coldest waters too! Although Cape Town has a lot of places that are considered tourist hubs, you will find a lot of local flavour in every place because Capetonians are so proud of their city and they never forget it!
Bio: Courtneigh is a South African from Cape Town who moved to London last year. Her blog awfullygoodbritlife.com is a narrative of her time since coming to London. She writes part time as a hobby, it's something she`s really passionate about. Photo's credits go to Martine Viljoen: @martineviljoen