Despite the prevalence of steakhouses, barbecue joints and Tex-Mex restaurants, I've been pleased to discover that Houston has its share of healthy, organic restaurants. Corner Table (2736 Virginia St, cornertablehouston.com) features a hearty paleo menu among other delicious offerings. Eating paleo means that you eat food that is inspired by the way our ancestors used to eat, choosing foods that are available only by hunting and gathering. The philosophy is that humans were intended to eat only food that could be hunted and gathered, not the processed garbage that dominates our Western diets. I was eager to check out this restaurant and try chef Bruce Molzan's exciting cuisine.
We began with two appetizers, Squash Blossoms and Pork and Duck Confit Spring Rolls off the regular menu. Both were served with delicious sauces and the blossoms were particularly tasty.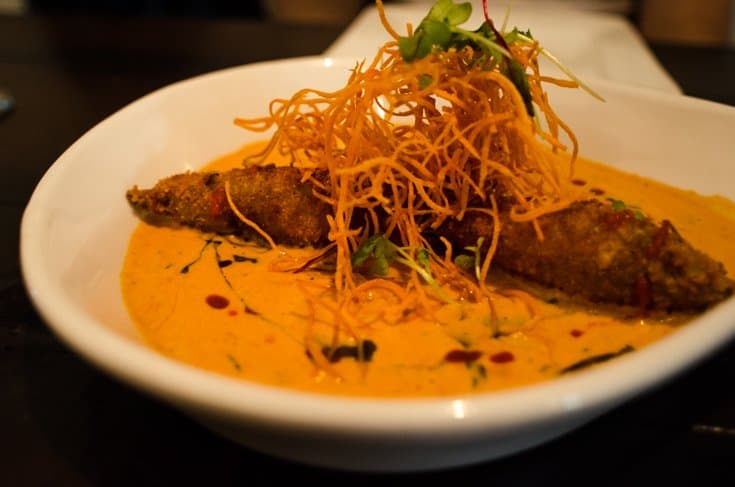 While I don't eat strictly paleo, I do try to eat gluten free as much as possible, so I was really excited about the paleo menu. I wasn't disappointed by the paleo Fried Chicken, dusted with almond flour and served with fresh vegetables and cauliflower mashed potatoes.
John tucked into the Corner Table Burger, which included crispy shallots, cheddar cheese, lettuce, pickles and the chef's special sauce.
In between courses we relaxed and took in the fun atmosphere. It was actually Halloween the night we dined here and the staff were wearing elaborate face paint. We could hear preparations being made for the party that would start later on that evening. Corner Table is actually located within the Corner Entertainment complex which is also home to a couple of bars and other venues.
We were so surprised when the dessert tray came around, piled with cakes and sweet treats. All of them were paleo! We chose the Chocolate Cheesecake, which arrived with pretty sauces and coconut milk ice cream. It was delicious! If you eat paleo or are just looking for a healthy restaurant in the Upper Kirby/River Oaks area, definitely check this place out for lunch or dinner.