REVIEW: Paradera Park Aruba
On my recent visit to Aruba, I had the pleasure to stay at Paradera Park, an exclusive tropical escape set in the heart of Aruba offering tropic apartments for rent.
The owners of Paradera Park apartments, Debbie and Henk, have created a quiet oasis that's perfectly located in the middle of the island , perfect to explore the rest of the island.
My studio apartment, a one bedroom suite, was located on the ground floor and consisted of a bedroom with two separate beds, a living room/seating area with a coffee table and flat screen TV, open kitchen, bathroom and a porch.
The room was nothing too fancy, it was simple but very functional and extremely clean.
Paradera Park offers complimentary pool towels, beach chairs and a cooler which is available throughout your stay and snorkeling gear is available for rent at the Reception.
To make your stay even more relaxing and carefree, Paradera Park provides a daily housekeeping service like you would get in a hotel, which I really appreciated! They even provided me with fruit, sandwiches, and refreshing juices for breakfast!
You can watch the video below to get a better idea of the apartments:
The bedroom
Both the Living room and the bedroom have an airconditioning unit and this is certainly useful with temperatures in Aruba being so high at times. While the airconditioning in the living room was quite loud, I'm glad that the one in the bedroom had a quiet setting and didn't bother me while I slept.
The living area
Bathroom
The bathroom is small but functional. Everything I needed, like towels and amenities, was provided.
All in all, a modern bathroom with a walk-in shower (no bath!)
Outdoor swimming pool
One of the highlights of the Paradera Park experience is the palm-edged freshwater pool, surrounded by a garden with small private corners where you can sit and enjoy a beer in the evening or relax in a hammock.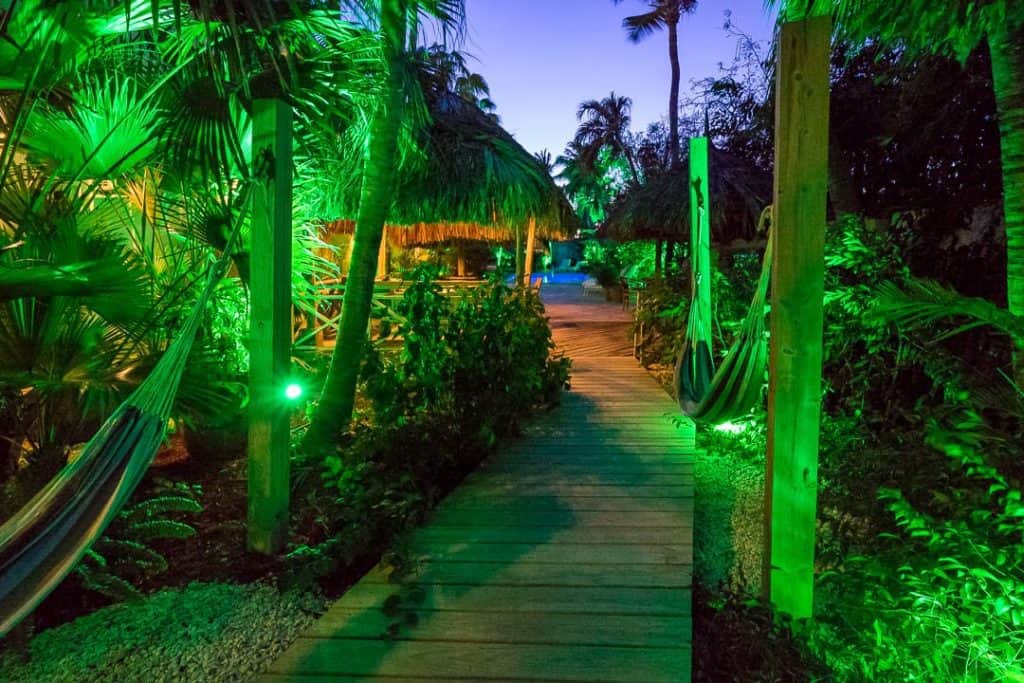 WIFI
Paradera Park offers a complimentary WiFi hotspot in the pool area as well as free In-Room LAN or Wi-Fi.
Except on one evening (but that was more of an issue on the entire island) the WIFI speed was good and worked perfectly.
Location
Paradera Park Apartments is located in the center of the island of Aruba. And while this could be a negative if you like to go clubbing every evening at the big resorts in town, most people that stay at Paradera Park see being away from the hustle and bustle as an advantage.
It's recommended that you only stay here when you are renting a car for the duration of your stay (The owners can help you with renting one).
There is a grocery store nearby within walking distance, and everything else is a 15-30 minute drive from the apartments.
Final Conclusion
If you like to go for hikes in Aruba or want to do more then just stay on the beach, Paradera Park Aruba is an ideal base to start your exploration of the island from.
I highly recommend Paradera Park if you want to stay off the beaten path, it provides a tropical Carribean atmosphere in a quiet and private setting where you can unwind and relax. Quality apartments in Aruba for a quiet family vacation or relaxing getaway.
Check the  latest prices for Paradera Park via www.paraderapark-aruba.com.