Valentine's Day is coming soon so today we have a guest post from Marina Villatoro, who shares her favourite romantic restaurants in Antigua, Guatemala.
One of my secrets to keep romance in my marriage is to schedule a romantic night out at least once or twice a month. So I'm always looking for places where I can get what I like to call, a different experience with my husband. After eating at almost every restaurant in Antigua, I have to say these are my top choices.
5 Restaurants for Romance and Adventure
Meson Panza Verde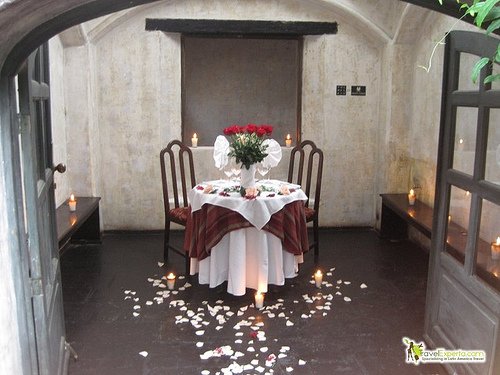 Panza Verde is a boutique hotel in a typical colonial-style building. What sets it apart from most places is the amazing restaurant that is probably one of the most creative in town with their unique option for couples. Here you can make a reservation for a private, romantic dinner in a dome that they have on their terrace. They decorate the staircase and dome for you with roses, candles and other fun stuff, but not cheesy! And you get your own waiter that is there at your beck and call. Even though it's a hotel and there are rooms around the dome, no one uses the staircase it's closest to, so it's as though the entire terrace is all for your own private party. Plus, the views are absolutely insane of two volcanoes - one of which spits out smoke all the time.
Casa Santo Domingo
There is little comparison to this place. It's a five star hotel in the middle of the ruins of an old monastery.  The ambiance is really the selling point. You're sitting in a restored ruin, overlooking courtyards and remnants of what it once was when this monastery was in full swing. The food isn't that great and I have a feeling they don't care at all because - who's kidding who - no matter what you will end up here during your visit to Antigua because it's just so damn gorgeous!
Santo Domingo del Cerro
Casa Santo Domingo's owners are super rich. They are THE family of Antigua. And they have style! They built one of the best restaurants with one of the best views that overlook the entire valley on a neighboring mountain top. And I'm positive the chef here is totally different from the main hotel's restaurant, because the food here is to-die-for! It's especially the place to be when the sun sets over the volcanoes.
El Convento
Antigua is full of colonial-style boutique hotels. Yet only a few have restaurants worth visiting and even fewer that offer romantic packages that include a four course dinner with wine, a personal waiter and a decorated table either on the terrace or in a very private room. We chose the terrace. I can sit in a room at home; here you want to enjoy the views and the perfect weather.
Inca Restaurant
Recently for our nine year anniversary my husband found a Peruvian restaurant. We've passed it a hundred times in the two years we've lived here and finally decided to try it out. From the outside it looks so tiny, but once you enter inside it has five dining areas, two of which are almost completely private with fireplaces and your own personal bathroom. Plus, the food is traditional Peruvian cuisine that is truly delicious!
Who would have thought that as tiny a town as Antigua would have so much to offer! What's your most memorable romantic dinner adventure?
Bio: Marina K. Villatoro is an expat living with her family and traveling in Central America. Join Marina on Facebook and Twitter for more Central and Latin American fun!
You may also enjoy these similar posts: