Summer is approaching fast and if you haven't decided on a travel destination for your next vacation trip, Northern Europe or Scandinavia might be a great choice!
Let's check out some of the best places to visit in northern Europe together!
Iceland
Ever since I discovered Iceland, it has been the number one place to visit in Northern Europe for me. There's so much to do and see in Iceland, I can't get enough of it!
Most people visit the West part of Iceland with the Snæfellsnes Peninsula, a region in western Iceland known for its dramatic landscapes, and the golden circle, a famous day trip that you can easily do from Reykjavik with a guided tour or with a self-drive tour.
However, if you can spare more time, I can highly recommend visiting the West Fjords!
It's a more remote region with rough terrains and sparse population. The ideal place to visit if you want to get away from the beaten path!
 

Dit bericht bekijken op Instagram

 
While summer is the best time to visit Iceland, it's also the busiest season and so I'm thinking my next visit will be in winter next time.
Iceland is definitely going on my bucket list!
Scotland & Ireland
Ireland and Scotland aren't just geographical neighbors, they share a wealth of historical and cultural ties as well. This makes it both convenient and beneficial to visit both countries in one go.
One of the more beautiful places to visit in Scotland is the Isle of Skye! The Isle of Skye, connected to Scotland's northwest coast by a bridge, is known for its rugged landscapes, picturesque fishing villages, and medieval castles.
If you're planning your own tour around Scotland and Ireland, you'll want to ensure you hit all the country's top highlights: Edinburgh, Isle of Skye, Belfast, Dublin, Cliffs of Moher and Giants Causeway.
Stockholm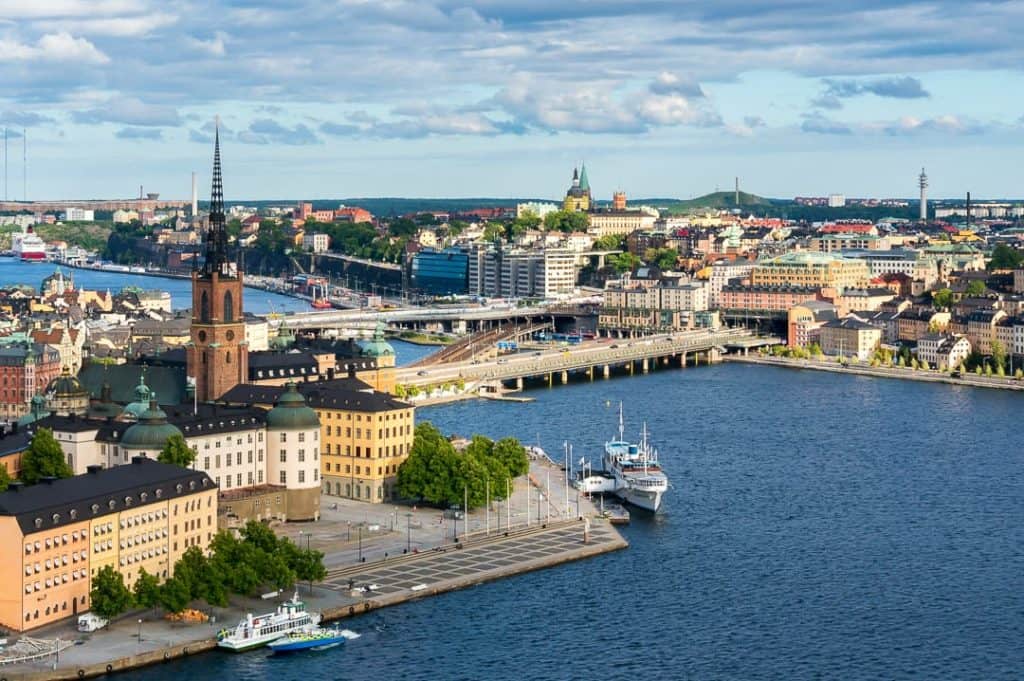 Stockholm is one of those cities that has it all: a gorgeous island cityscape, a green belt around the city, lots of beautiful architecture, the world's longest art exhibit, lots of cultural and historical heritage sites, interesting musea, awesome food markets and ... you can pay cashless everywhere, YES! 😉
With its patchwork of island districts, Stockholm is certainly one of the more picturesque cities in Northern Europe.
If you decide to visit, don't skip the Djurgården island that hosts the fascinating Vasa Museum and famous ABBA museum!
How to get there
While most people will fly to Northern Europe or Scandinavia, a good alternative is going there by boot!
I'm not talking about taking the ferry, although this is a viable option if you want to visit Ireland for example and you're doing a road trip around Europe. No, I'm talking about taking a cruise!
Ever since my parents started 'cruising' I'm more and more amazed about how cheap it can be to join a cruise and there are some good options out there to cruise around Northern Europe for sure!
Most cruise lines focus on Scandinavia but as you can see below you can also find routes that take you to Iceland and Ireland on the same trip for example.
Now, I'm not saying it's something for me, because I like to have more freedom when I travel...
But I can see the appeal of hopping on a boot and being shipped to all these amazing places without having to change hotel rooms all the time!
So, what about Norway?!
Well ... from what I hear, Norway is also a fantastic place to visit! However, I haven't been there myself and so I can't really recommend it when I haven't been there now can I?
I do think it's one of the best places to visit in Scandinavia since it's one of the most beautiful countries on earth, and I do plan on roaming the Norwegian fjords and hiking its jagged coastline and vast icefields someday!
So what do you think is the best place to visit in Northern Europe? Let me know in the comments below!