Step back from the chaotic sidewalks of the Las Vegas Strip and the lights and sounds of the casino floors and you can find yourself in a whole other world, even one of marine and exotic animals. The Mirage is true to its name - wander through and enjoy a walk under lush greenery and alongside misty waterfalls. The beautiful creatures of the Siegfried & Roy's Secret Garden and Dolphin Habitat awaited us on this day, ready to play and have fun.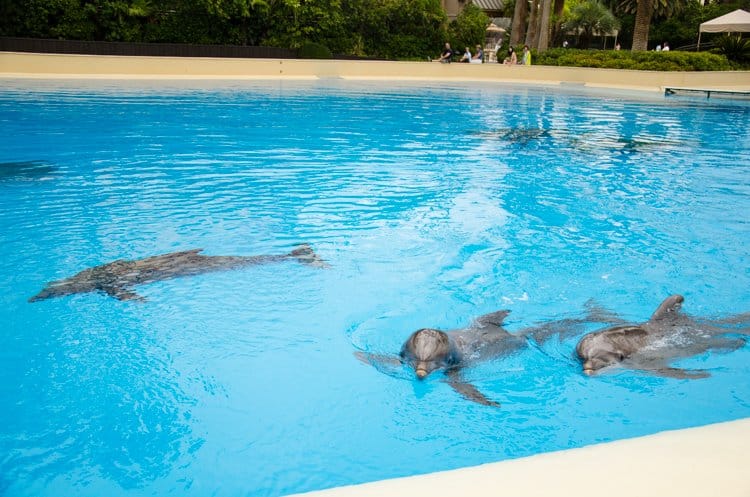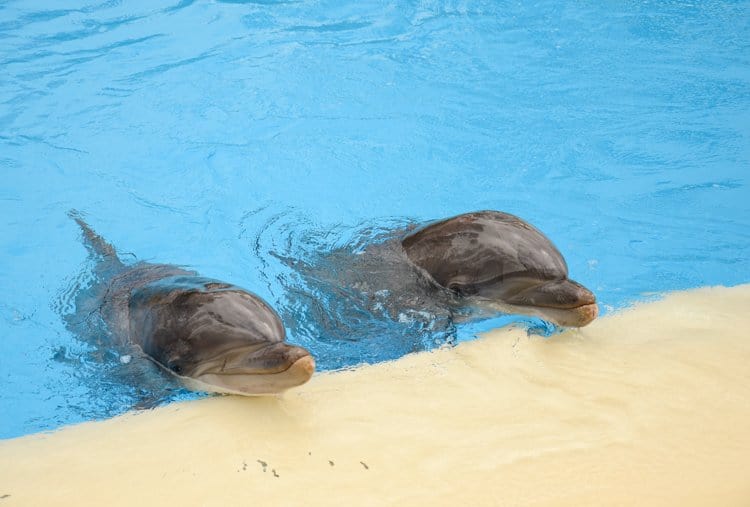 We were greeted by three of the dolphins as we wandered up to the edge of the pool. The reason for today's visit was actually to paint with them and they were clearly as excited as we were. One of the trainers greeted us and took us back to the preparation room where we were asked to choose three colors for our artworks and paint the backgrounds ourselves.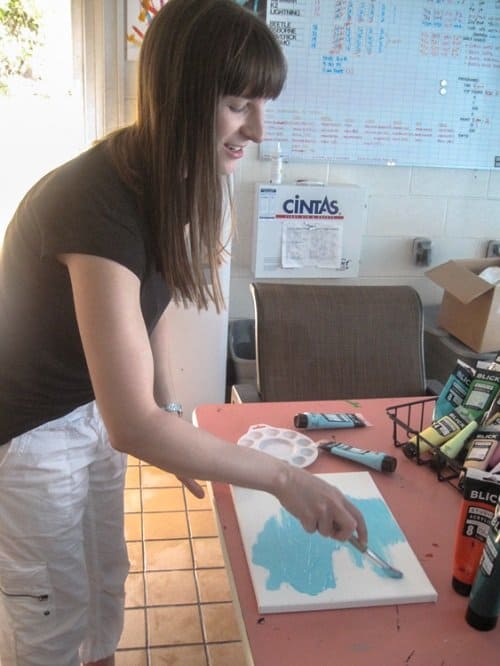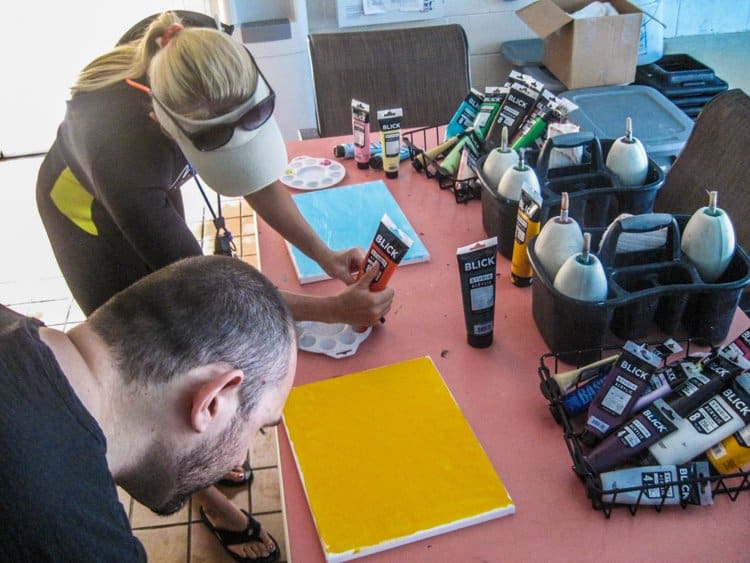 The paints are water-soluble and completely safe for the dolphins. John would be painting with Cosmo, a 10-year old male bottlenose dolphin who paints up and down. I worked with Maverick, also 10 and who was actually born at The Mirage, who tends to paint right to the edge of the canvas.
We weren't sure what to expect from the dolphins. After getting into position kneeling at the edge of the pool we were delighted when they swam right over, ready to go. They took the little paintbrush balls into their teeth and started to brush the canvases as we held and turned them. The trainers helped us change colors as we wanted and the dolphins did an amazing job of making interesting strokes and beautiful paintings.
After our art session finished, we got to do some cool things with the dolphins like pet them and send them off to do tricks with signals learned from the trainers. I even got to give Maverick a few kisses, which he seemed to love. The painting activity is supposed to be very stimulating for the dolphins and they seemed to love it.
It's easy to experience Painting With Dolphins, simply make a booking through The Mirage website. The experience also includes admission to the Secret Garden and Dolphin Habitat, where we spent some time checking out the underwater viewing area where you can see more of the dolphins.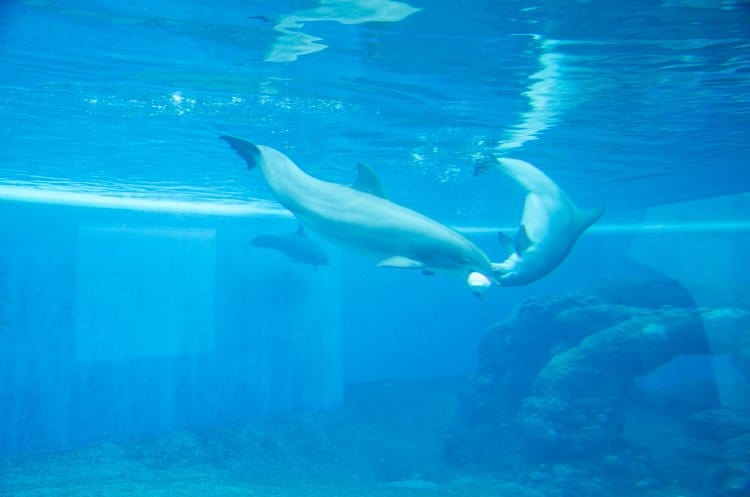 The Secret Garden is also home to lions, tigers and other beautiful big cats. They were, not surprisingly, asleep in the heat of the midday sun, though one lion did open an eye to gaze at me as I snapped his photo. If you've been reading this blog for a long time, you might remember that my last encounter with a lion was a little scary, so I was glad that this one did not get up.
The trainers at The Mirage are constantly interacting with the dolphins, training and feeding them. As we left, we had a chance to watch a little of the Trainer For a Day program, where guests work with staff to train, care for and get in the water with the dolphins. Next time we're in Vegas we're definitely going to participate in that experience!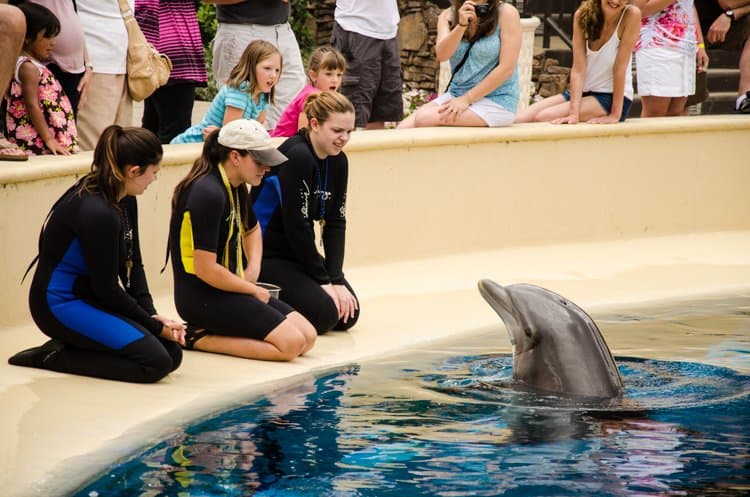 Hungry from our time with the dolphins, we headed to BLT burger for lunch. This Mirage restaurant serves up one of our favorite meals: burgers - of all kinds of meat and toppings. John started off with a spiked milkshake called the Night Rider, made with Kahlua, Chocolate liqueur, Oreos and chocolate ice cream.
Then we tucked into our burgers and fries: a melts-in-your-mouth Wagyu burger with skinny fries for me and the BLT burger with waffle fries for John. Delicious! At BLT Burger it's easy to mix and match your toppings and, if you have room, they have some tasty-looking starters and desserts as well.
Another fun marine life experience in Las Vegas is located at the other end of The Strip at Mandalay Bay. The Shark Reef Aquarium is home to sharks, stingrays, jellyfish, a huge variety of tropical fish and exotic underwater creatures, including piranhas, sea turtles, octopus and horseshoe crabs.
We really enjoyed wandering through this magical underwater world and seeing all the different species of animals. It's hard to believe that so much life is happening under water in the middle of the desert but Las Vegas is one of those places that often surprises and delights.
Which is your favorite dolphin painting?
Disclosure: We were guests of MGM Resorts International for all three of these experiences.
You may also enjoy these similar posts: