John and I are animal lovers and we never miss an opportunity to check out some furry creatures. I was never too excited about visiting the Bern bears, however, because I'd always heard that the old bear pits were cruel. But since 2009, the bears were moved to a new 6000 square metre park alongside the Aare river. We couldn't miss seeing them!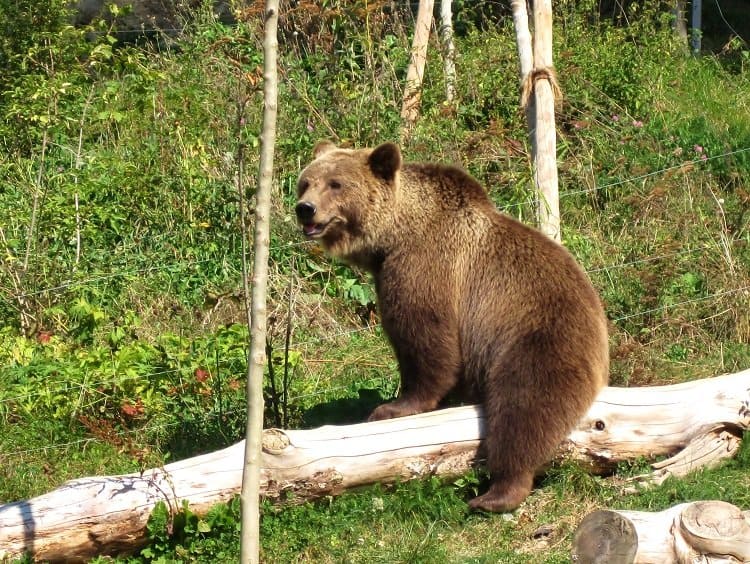 Switzerland's capital city has always had a special relationship with bears. According to legend the founder of the city, Berchtold V. von Zähringen, first caught a bear while on a hunting expedition and named the city for this animal. In 1224 a bear was shown on the seal of Bern. The first bear pit was created in 1513 when Bernese soldiers brought a live bear back from the battle of Novara. This pit was located at Bärenplatz until it was moved to the Schanzengraben (moat) in Bollwerkin in 1764, and was then filled with bears from the forest in Vaud. Aside from a seven year period prior to 1810, bears have always lived in the city of Bern.
The brown bears currently living at the park are a family. Finn, who was born in Helsinki, Finland in January 2006 and Björk, who is from Denmark (born in 2000), gave birth to Ursina and Berna in December 2009. The babies were to be sent to Romania, however a new solution was proposed and the pair will now remain in Bern.

We visited them twice, watching them for hours as we wandered along the circuit of paths around the enclosure. They're very active and we were able to see them swim, play and graze on the grass. Most amusing to us were their meetings by the fence, though the last one we saw was a little heartbreaking with Finn and Björk placing their noses together against opposite sides of the glass partition. When she'd had enough and went to leave, he jumped up and swiped at the glass as if to say, "Don't go!" I guess they must keep him separated from the cubs, though it wasn't made clear why he is in his own space.
While Switzerland isn't really a place for cheap holidays, it's completely free to see the bears. It's an easy walk to the bear enclosure from the centre of town, or take the number 12 bus (direction Paul Klee Centre) to the 'Bärengraben' stop. The paths around the BearPark are open 24 hours a day, seven days a week but the keepers are only there from 8 am to 5 pm. Guided tours can be organized on weekdays by calling 031 357 15 25. Tours last 45 minutes to an hour and cost CHF 200 for up to 20 persons (additional persons are charged at CHF 10 each).
If you're hungry after viewing the bears, there is an excellent brewpub called Altes TramDepot (Old Tram Depot) behind the upper platform that's great for a pint and a meal.
Address: Bern Barenpark, Grosser Muristalden 6, 3006 Bern, Switzerland
What animals do you love to watch when travelling?