Petra may be the top attraction in Jordan, but I was equally captivated by Jerash, a well-preserved Roman city that is easily visited on a day trip from Amman.
The city was originally known as Gerasa. Today the ruins stand as a triumphant reminder of what it once was: a prosperous city of the Decapolis. Walking through the site (with the help of our guide, of course) we were able to imagine just what it might have looked like during its height in the Bronze Age. It is one of the most intact cities of its time left today.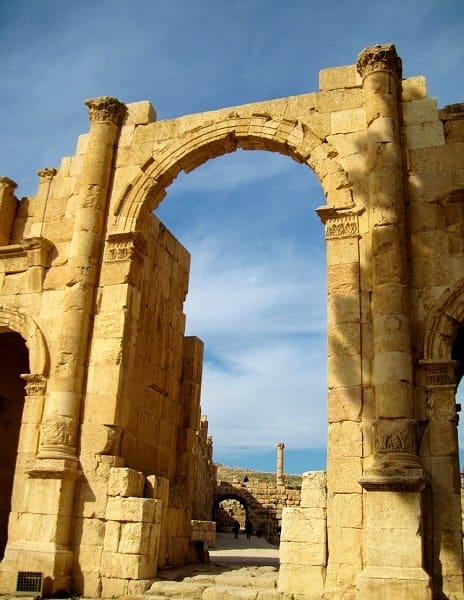 Especially impressive is the glorious south theatre, once home to the city's cultural scene. The Romans certainly knew how to build an amphitheatre with amazing sound quality. We played here for a bit, testing our voices against the naturally built amplification system.
Then it was time to walk along the main street, the cardo maximus. Notice the way the road was constructed, with the blocks placed diagonally in order to prevent noise pollution, accidents and costly maintenance to vehicles. If only every city planner took such care these days.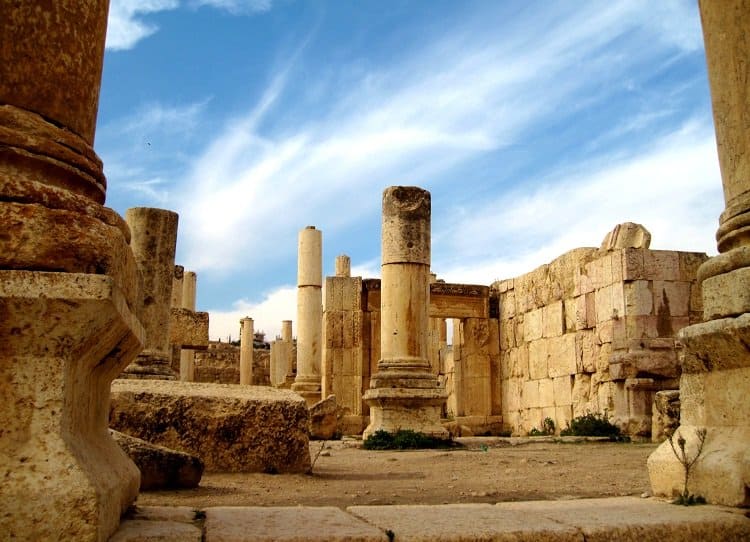 Every luxury city has a shopping plaza and Jerash was no different. Archaeologists have even been able to determine what type of shop likely existed in each part of the ruins. It's easy to imagine the women shopping here while the men hung out in the centre having drinks.
The places of worship have some of the most impressive architecture and detail:
Columns throughout the city came in different sizes and designs but the largest were reserved for the major temple, the Temple of Zeus. Sitting high above the rest of Jerash, this Hellenistic temple allows for wonderful views of the site as well as the modern city of Jerash today. Visitors with interest in architecture, archaeology and anthropology could easily spend a full day exploring here.
Getting there: This is an easy day trip from Jordan's capital city, Amman. Take the highway heading north-west towards Salt and follow the brown signs for Jerash, or catch one of the frequent buses from the Trababour bus station. For lunch, we recommend the excellent restaurant Artemis, which is near the site.
What's your favourite historical site in which to use your imagination?
Our Jordan experience was sponsored by the Jordan Tourism Board and we thank them for a fascinating journey.
You may also enjoy these similar posts: