In Bordeaux, it pays to be rich, bold and unique. As beautiful as the city is, to truly experience its magic one should venture out into the surrounding wine regions, where these characteristics are embodied. Here much is on offer to lovers of the great grapes, Cabernet Sauvignon and Merlot, with their cousins, Cabernet Franc, Petit Verdot and Malbec lending a hand. Those preferring white wine should stick to the Graves area, where Sauvignon Blanc, Sémillon and Muscadelle are produced.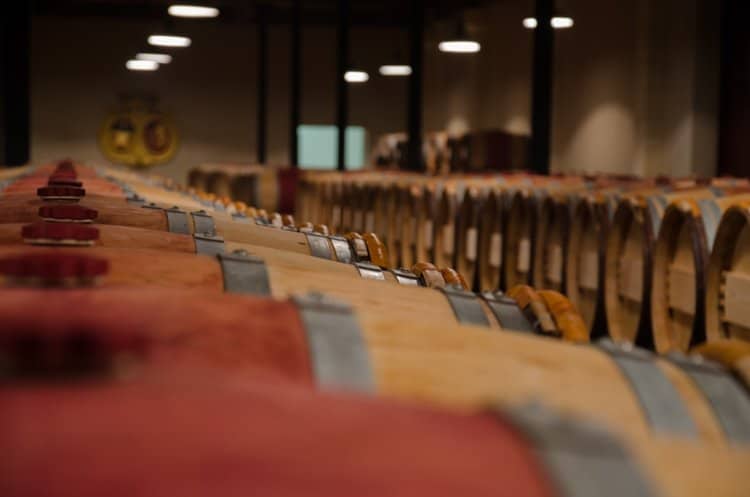 It is impossible to cover the whole of Bordeaux in one day on a wine tour. Distance will thwart you and, really, this is not a place where one wants to rush. Nor can you just hop into the car and drive around to open cellar doors on a whim, where awaiting winery staff are happy to pour you glasses of whatever you would like from the range of wines on offer. This is very much the culture in new world markets like Australia and the United States (and what we're used to). Most Bordeaux vintages sell out two years in advance and so the châteaux don't have to worry about receiving guests. They will happily receive you if a request is made, but be sure to plan this in advance and, most likely, during the week.
Because it was our first time in Bordeaux, we chose the Medoc region for our day out. This is the most famous of them all, home to many of the prestigious labels that command remarkable prices around the world (Lafite, Latour, Mouton Rothschild, etc). French rules are fussy. The appellation d'origine contrôlée (AOC) certifications dictate the manner in which certain products may be produced, the ingredients that may be used and where they may be aged. Napoleon's 1855 Classification ranks the importance of the wines, distinguishing them by growth (first to fifth). But France's classifications are old and times have changed – if you live by the classifications when it comes to choosing wines, you'll miss out on many excellent, well-priced bottles. There are, perhaps, 10,000 châteaux in Bordeaux but only 500 are classified.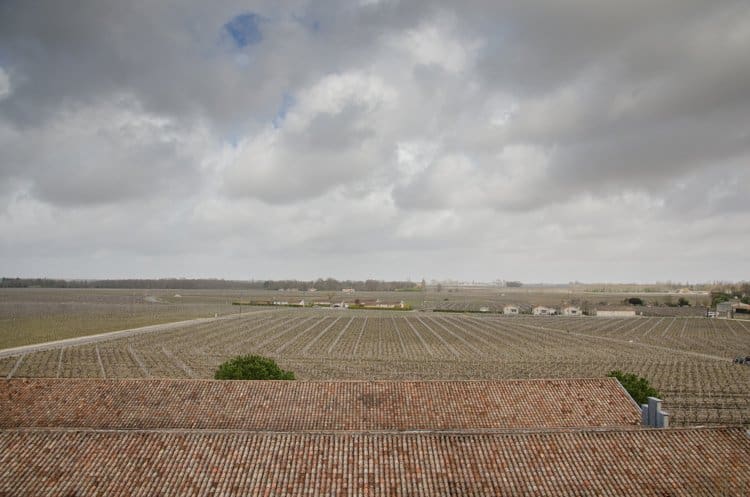 As with anything that is a matter of taste, there is no general rule when it comes to what is the best wine to drink. It's all about what you like. But it is fascinating to learn about a wine region and why those particular wines are special. All wines are special because of the terroir, which takes into account things like the soil and microclimate, the age of the vine and, of course, the growing and winemaking process itself. Here the different terroir make the Medoc a unique place. There is no one particular style of wine that is characteristic of the region. Another reason it is a good choice for a tour.
Our day began before it began, with a note from our guide, Bogdan, left in our room at the Grand Hôtel. We had been looking forward to this tour for weeks, having booked with his company, Bordeaux Vertigo. He had crafted a plan just for us, with visits to a different winery from each of four appellations and across different growths. Driving into the country, we chatted about the region, its history and the wines we would taste. Bogdan recommended that you don't need to go over 100 euros to get a good bottle of Bordeaux wine. He also illustrated some of the absurdities of Bordeaux wine pricing, like how 2000 and 2001 were both great years but the millennium vintage costs more because it is from that particular year.
A château visits always consists of a tour followed by a tasting. The producers want you to learn about their wines, not just stop in for a taste and then leave. This reminded us of our time in Mendoza, where they seem to follow this approach. It is possible to make appointments on your own and visit the different wineries with your own vehicle, but we much prefer to relax and let someone else do the driving. A good thing too because these wines are powerful!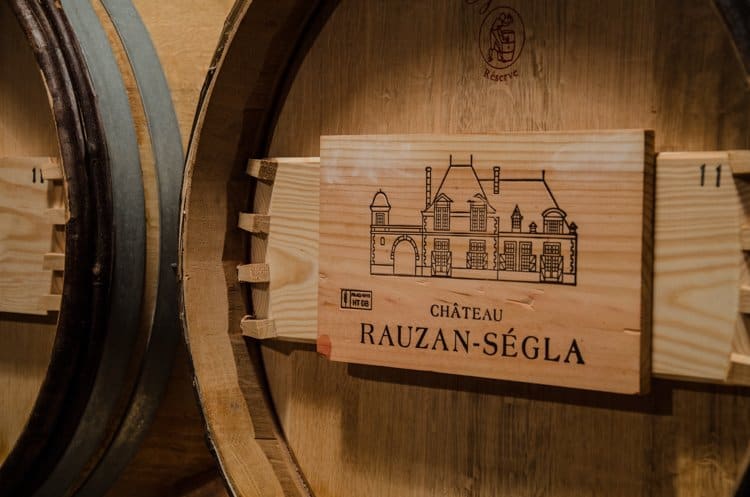 Our first stop was in the appellation Margaux at the second-growth Château Rauzan-Segla, which is owned by same family that owns Chanel. Margaux is a more feminine classification, delicate and elegant, medium to full-bodied, and grown mainly in gravel, limestone and clay. This is a splendid property and we enjoyed the grounds as we walked around. After a visit to the stainless steel wine tank storage room, we proceeded to look at the barrels and then headed into a room where we tasted glasses of Château Rauzan-Segla. This is a deep ruby red wine that is meant for ageing.
I should note that it really helps to know about the style of wines you taste in Bordeaux and to be able to use your imagination. What you taste will not be the aged incarnations of the wines when they are at their best. The open bottles are usually only a few years old and will need time to develop; young Bordeaux wines are often quite tannic and haven't softened yet. Personally I find it a little more enjoyable to taste not only a wider variety of wines on a tour, but also to taste more mature cabernet sauvignons. John, on the other hand, was in heaven. Bordeaux is his favourite style and I think he was a little better prepared for this process than I was. That said, it was easy to see already that the Château Rauzan-Segla would develop into an exquisite wine. It was quite fruity with nice texture and a fragrant bouquet.
Next we headed to appellation Saint-Julien, where what they lack in first-growths they make up for in consistency. Our visit was to Château Gruaud-Larose, a second-growth producer that actually has a reputation for being somewhat inconsistent. But these are still outstanding wines. We enjoyed our tastings of Château Gruaud-Larose 2007 and Le Sarget de Gruaud Larose 2004 so much that we picked up a bottle of Château Gruaud-Larose 1989 to have over the weekend.  Most of the châteaux have a second wine that is made from the vats not selected for the first label wine. These will be more affordable but still profitable for the château.
An interesting aspect of the châteaux is all the high-tech equipment on-site. Gruaud-Larose has, for example, a hail cannon that can be used to dissipate hail when it is detected. I found it interesting that what happens on the ground is tightly controlled by French standards, but when it comes to weather modification, they stay out of it. And with all the technology used at many of the wineries, nothing is really left to chance. Consistency is another reason that Bordeaux wines can command such high prices. But as one of our Château guides mentioned at the end of the day, this also takes a lot of the romance out of winemaking.
After this we stopped for a delicious lunch near Pauillac at Café Lavinal (Place Desquet in the Bages hamlet). This is a modern restaurant with typical local dishes and an excellent selection of wines by the glass. Here we enjoyed foie gras and oeufs (eggs) meurette with red wine sauce, diced bacon and mushrooms, along with roasted veal and duck. The portions were delicious and very generous, perfect for a day out wine tasting.
After lunch we proceeded to Château Lafon-Rochet in appellation Saint-Estèphe, where we were greeted by the biggest boxer I have ever seen. This is one of my favourite dog breeds and he was certainly a friendly ambassador for the property. Basile Tesseron, manager of the property, joined us shortly after that, explaining that this was his father's dog, a treasured present and constant companion who had grown a bit larger than anticipated. We couldn't get enough of the dog, but finally began our tour of this 120 acre, fourth-growth estate.
The vines of this family-owned and run château go back to the 17th century and the wines attract a discerning audience of real connoisseurs, who appreciate their power, density and smoky aroma. We really enjoyed them, tasting both the Château Lafon Rochet and the second label, Les Pelerins de Lafon. This is another label that will do well aged for a couple of decades.
Finally, we reached our last château of the day: Lynch-Bages. This is a very popular fifth-growth estate producing a number of wines, including white. The current winemaker is Jean-Charles Cazes (since 1934); he is known for being the last to harvest in Pauillac. In contrast to  Lafon Rochet, Lynch-Bages is a very large producer. The property is very nice, with an interesting wine museum that we toured as part of our visit. Our last tastes of the day were the Château Lynch-Bages 2006 and Château Ormes de Pez 2006. The Château Lynch-Bages in particular is a very powerful, masculine wine, with both smoky and rich fruity flavours. Once again, these wines require quite a bit of ageing to really reveal themselves.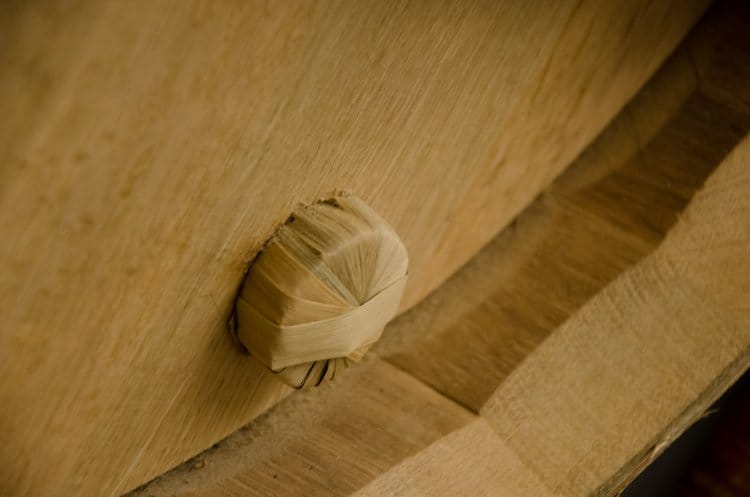 Every aspect of our day was a learning experience. I never knew, for example, that magnums provide the optimal bottle conditions for ageing. Or that egg whites are sometimes used to improve wine quality during the fining process. There was an added element of excitement and anticipation in the air as well, for the châteaux employees were all buzzing about futures coming up in two weeks – where buyers, journalists and critics come to taste the new vintage.
We highly recommend booking a tour with Bordeaux Vertigo as well. Bogdan is very friendly and extremely knowledgeable about the region and its producers and he will create a day based around your interests, whether you wish to see Medoc or another region. He even does tours to Cognac, which is already penciled in on John's schedule for our next visit. If time or costs prohibit you from taking a wine tour to the châteaux during your stay in Bordeaux, be sure to do a tasting in the city. Bar a Vin (angle allee Tourny et cours du XXX julliet, vins-bordeaux.fr) offers wine tasting with an excellent selection of wines by the glass. It is also possible to take a wine class or sample wines at one of the many restaurants with good lists around town.