Desperately in need of a mini-break, John and I put our work aside last weekend for a change and headed to Houston's CityCentre for 24 hours of fun. We were lucky guests at the chic Hotel Sorella, one of only two Houston hotels on the Conde Nast Traveler Gold List.
Located in the CityCentre entertainment complex, which has an excellent location in the Energy Corridor, Hotel Sorella offers 244 guest rooms and suites and 11 luxury penthouse suite apartments. Rooms include complimentary wireless internet access and continental breakfast in the lobby lounge. The hotel amenities offered include a spa and fitness center, complimentary town car service within a five-mile radius, valet parking, in-room dining, complimentary newspapers, a restaurant and a lounge. Guests have access to the local walking trails and a plethora of dining and entertainment options at their doorstep.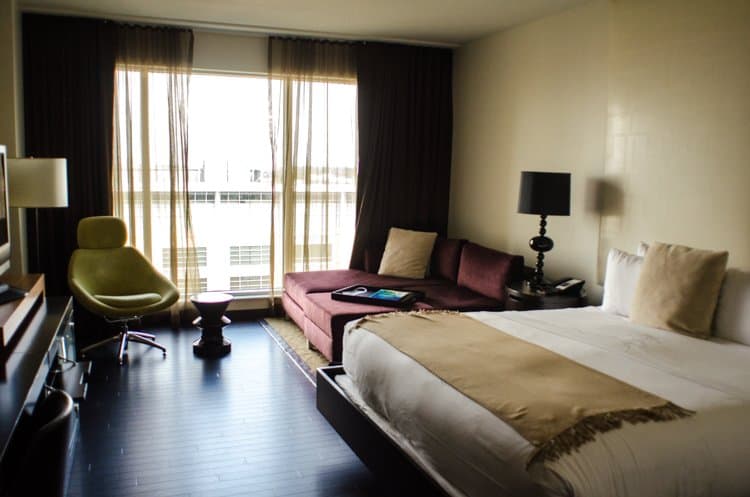 After a friendly check-in we headed up to our room. We enjoyed the views for awhile and then decided to head down to the Monnalisa Bar for a drink. There is always something going on at CityCentre and this weekend we watched a gathering of people for a massive spin class to raise money for cancer research. Relaxing by the pool we had a nice vantage point for people-watching and checking out the action below.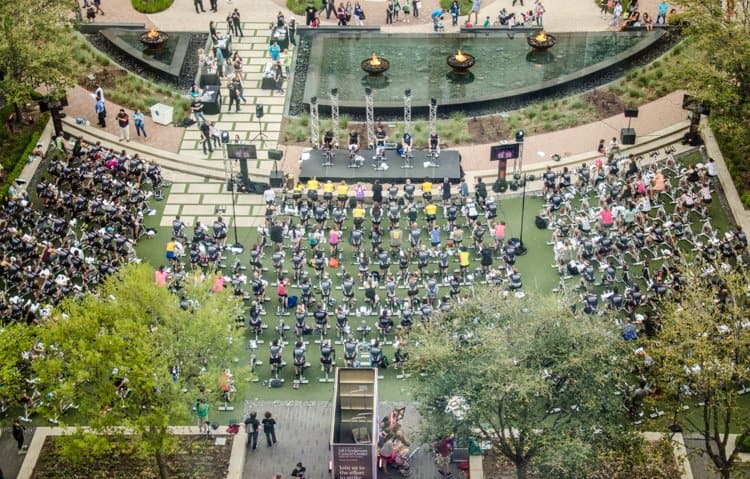 Soon it was time to head to a dinner we'd been looking forward to for a while. The Capital Grille had just opened a location four months prior at CityCentre. We crossed the street and entered the rich interior of the restaurant where we were seated in a plush corner table. Red walls and abstract art surrounded us as we began to decide on the components of the feast we were about to enjoy.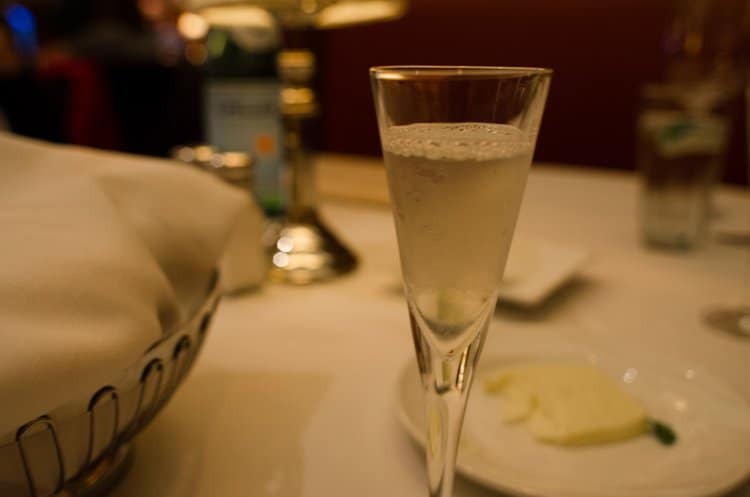 The Capital Grille philosophy is to serve only fresh, hand-crafted ingredients, right down to the mozzarella on their Fresh Mozzarella, Tomato and Basil with 15-Year Aged Balsamic salad. Our knowledgeable server walked us through the menu and explained the dry aging process for their beef. Each restaurant has a dry aging room where the meat spends some time before making its way to a diner's plate.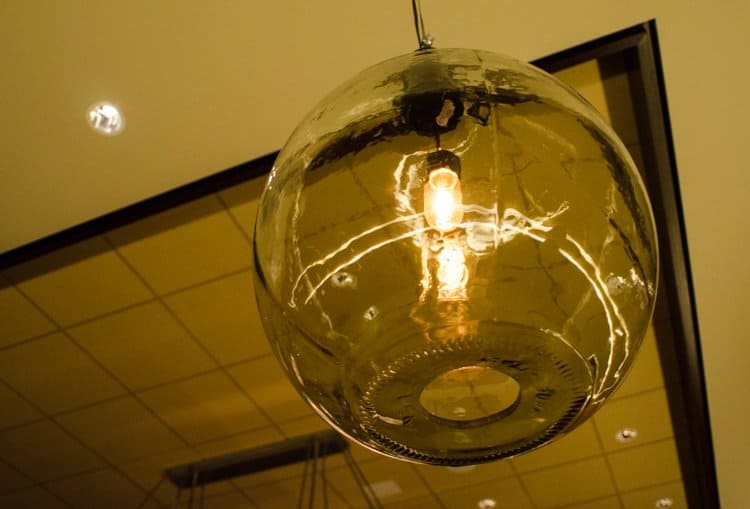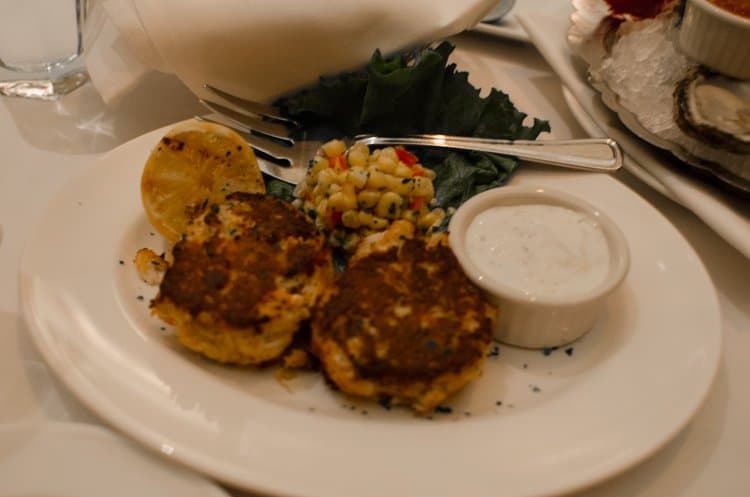 We began with samples of their signature cocktail, the "Stoli Doli," a refreshing Stolichnaya vodka martini infused with pineapple, chilled and served straight up. It was really refreshing and an excellent appetizer for what was to come. We decided on the Lobster and Crab Cakes and Fresh Oysters on the Half Shell to begin. Meanwhile, the bread basket arrived at the table and we hastily indulged in too many delicious slices of both the pumpernickel and rustic bread.
Crab cakes are quite common at steakhouses in Texas but the combination of both lobster and crab was heavenly. After downing my wonderful fresh oysters from Massachusetts I helped John with the cakes, the juicy, succulent meat masterfully seasoned with dry mustard and sweet red pepper spices.
Of course, when our steaks arrived we wished we had forgone eating for the past couple of days. I'd ordered the dry aged ribeye with butter poached lobster tails, a mouthwatering choice. John tucked into their signature Porcini Rubbed Delmonico with 15-Year Aged Balsamic to which he had added a juicy king crab leg on the side. Steaks at The Capital Grille are cooked under infrared broilers, which allow a really nice crust to form on the outside of the steak. On the inside they were cooked to our desired medium rare. As if that wasn't enough, we'd ordered two delightful sides: the Lobster Mac 'N' Cheese and Creamed Corn with Smoked Bacon, both delicious and perfect accompaniments. We couldn't believe how much lobster was in the macaroni and cheese!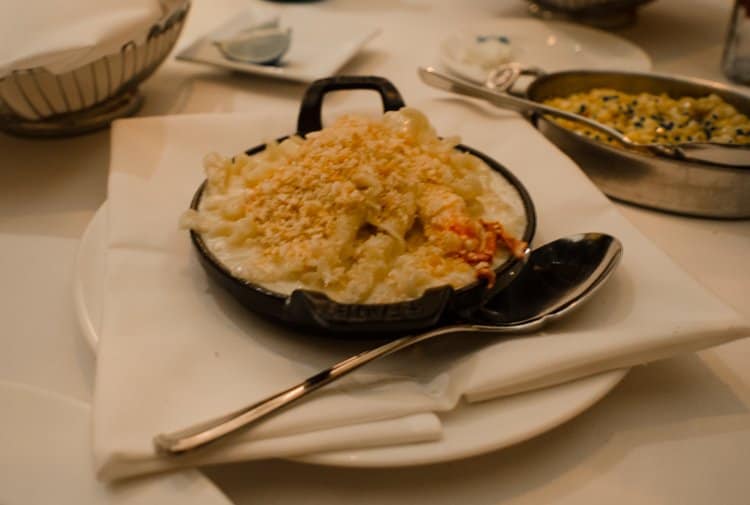 We couldn't dine at The Capital Grille without taking advantage of the restaurant's award-winning wine list. The 2009 Freemark Abbey Cabernet Sauvignon from Napa Valley really stood out. Its dark red, velvety texture was amazing and complemented the steaks nicely. And, of course, there's always room for dessert. We managed to squeeze in more than a few bites of their intoxicating Flourless Chocolate Espresso Cake with raspberries and whipped cream. Divine!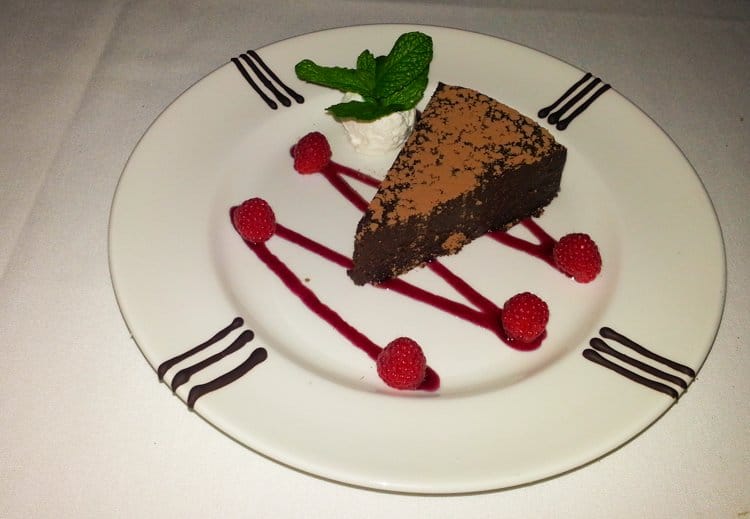 The Capital Grille is a fine dining establishment with impeccable service and sophisticated tastes and décor, but we loved that it wasn't stuffy. Every member of the staff that we encountered was friendly and unpretentious, from our server, Roberto to Executive Chef Todd Williamson who stopped by to introduce himself. They even took our photo and gave us a copy in a lovely card. This is definitely a place for special occasions or just to treat yourself. After dinner we enjoyed a tour of the banquet and meeting areas as well as the beautiful bar where guests enjoyed drinks and bar snacks in a spacious area.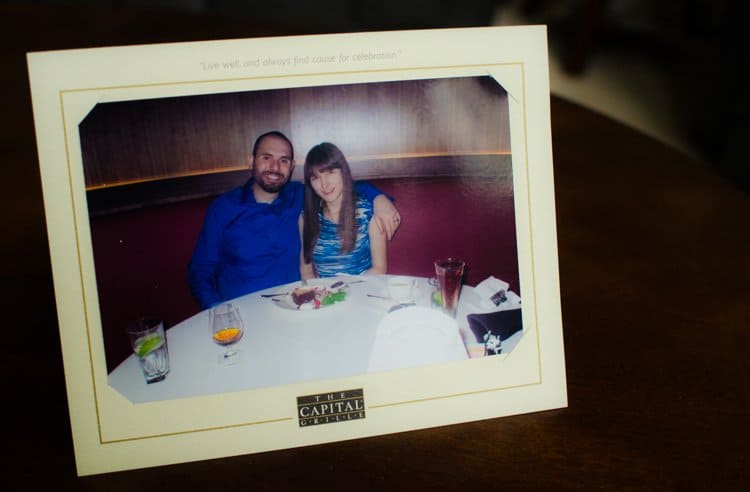 We had planned all night to go and see the band at the Hotel Sorella's Monnalisa bar that night but after a meal like that we wanted nothing more than to curl up in our plush, luxurious bed and relax. Luckily we only had to step outside and across to the hotel elevators and we were there. We wanted to get a good night's sleep for the next day there was more deliciousness to be had…