While in New York City, we visited many pubs and bars to sample a wide range of American craft beer from different parts of the United States. I know we didn't even begin to scratch the surface, but in this first part, I've included the "Eastern Conference" breweries.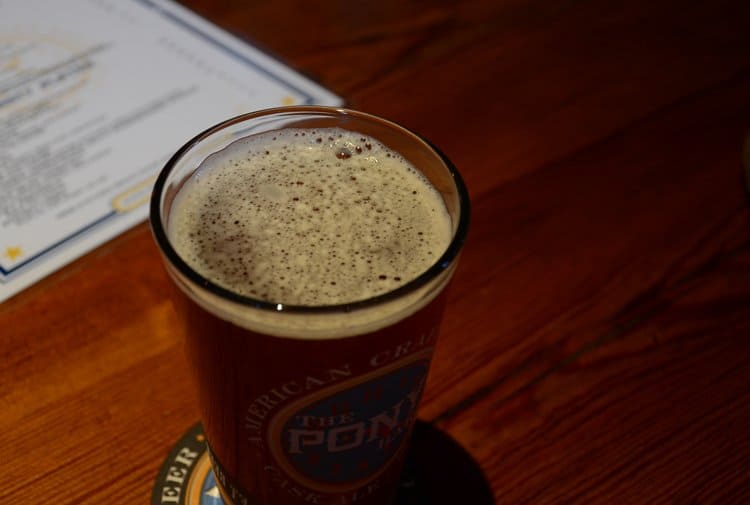 Landbrot (137 7th Ave S, NYC, www.landbrotbakery.com)
This brewakery (brewery/bakery) has two locations, the West Village one we stumbled upon and also in the Lower East Side. The food looked good, but we only had time for the beer:
Höss Doppel Hirsch (7.2%) - this strong, dark beer is brewed with at least 75 % dark malt and has a distinctive malty and velvety taste with light hop bitter.
Höss Holzar (5.2%) - labelled as an original old Allgäu brewing specialty, this amber beer is bottom-fermented and has the taste of dark brewing malt with a well-rounded bitter touch.
The Pony Bar (637 10th Ave at 45th, NYC, www.theponybar.com)
Hat's off to Andrea for her fantastic research before we arrived in NYC. This was the pick of the trip and when we arrived only five minutes after the opening hour, the place was already packed. True to form, we got stuck into some local brews:
Singlecut Beersmiths (19-33 37th St, Astoria, NY, www.singlecutbeer.com)
Pacific NW Dean Mahogany Ale (6%) - made with Pacific NW hops and malt attitude, I could've swum in this beer for hours. An absolute highlight!
Ruckus Brewing Company (261 W 35th St, NYC, www.ruckusbrewing.com)
Hoptimus Prime (9%) - this double IPA contains five different hop varieties, then dry hopped for two weeks. The massive hop flavour was perfectly balanced with three types of malt. Gimme more!
Coopers Craft & Kitchen (87 2nd Ave, NYC, www.coopersnyc.com)
This was another place we discovered that didn't disappoint. A great range of beers and good food to boot. I had a four mini-pint sampler here, chosen strictly by name. Two are mentioned here and the others are covered in Part II:
Southern Tier Brewing Company (2072 Stoneman Circle, Lakewood, NY, www.stbcbeer.com)
2XMAS (8%) - a double spiced ale with two varieties of hops and four varieties of malts. Figs, orange peels and the like give it that sweet taste with aromas of mulled wine. I'm not usually a fan of seasonal Christmas brews, but this was delightful.
Smuttynose Brewing Company (225 Heritage Ave, Portsmouth, NH, www.smuttynose.com)
Robust Porter (6.2%) - this hearty, mahogany coloured ale is a very drinkable beer, characterized by its well-balanced malt and hops, plus subtle notes of coffee and chocolate. I can't say enough about my love for porters and this one was amazing.
Heartland Brewery (35 Union Square W, NYC, www.heartlandbrewery.com)
Andrea first brought me here in 2009 and while it's a chain establishment with many locations in the city, the beer they brew is still very good:
Red Rooster Ale (5.5%) - a red ale with a rich toffee and roasted nut character. Lots of American hops made it the perfect accompaniment for my chicken tenders.
Farmer Jon's Oatmeal Stout (6%) - this creamy oatmeal stout has hints of espresso and a dark chocolate sweetness. I indulged in a piece of their cookie pie along with the beer. Delicious!
The Stag's Head (252 E 51st St, NYC, www.thestagsheadnyc.com)
This was my second favourite pick of the pubs we discovered. The extensive number of beers listed on the chalkboard made it a lucky dip where everyone's a winner! Here's one I had while the other is in Part II:
Victory Brewing Company (420 Acorn Lane, Downingtown, PA, www.victorybeer.com)
Moonglow Weizenbock (8.7%) - a dark amber wheat beer featuring fruity and spicy aromas. It's also unfiltered (which I adore) with a unique yeast strain. I first encountered weizenbock beer in Vienna in 2011 and it's enjoyed all over Bavaria too. Fantastisch!
Jimmy's No. 43 (43 E 7th St, NYC, www.jimmysno43.com)
A great little place downstairs from a different pub above. Don't be fooled and walk into the wrong one! I would've loved to stay longer for more beers and tempting food, but research is hard work!
Wandering Star Craft Brewery (11 Gifford Street, Pittsfield, MA, www.wanderingstarbrewing.com)
Red Nose Rye Spiced Winter Rye (6.7%) - a festive, subtle-spiced ale with being overly spicy or drowning the underlying beer. I've got stuck into rye beers since being in Norway and I really liked this drop.
Knife & Fork Inn (3600 Atlantic Ave, Atlantic City, NJ, www.knifeandforkinn.com)
I have to mention the fantastic Knife & Fork Inn we visited when gambling the night away during our stay in AC. The food was great, but the beer was even better!
Dogfish Head Craft Brewery (6 Cannery Village Center, Milton, DE, www.dogfish.com)
Bitches Brew (9%) - a bold, dark beer that's a fusion of three threads of imperial stout and one thread of honey beer with gesho root. That's a truly delectable mouthful if ever I've heard one! I opened with this beer before the food came and while many may say stouts before dinner is a no-no, it definitely hit the spot for the poker night ahead.
My Antonia Pilsner (7.5%) - a continually-hopped imperial pils that's citrusy, sweet and refined. I've never seen a pilsner with such a high alcoholic content and while we didn't drink it at the Knife & Fork, I have to mention it because it was Andrea's favourite beer of the trip.
Tröegs Brewing Company (200 E Hershey Park Dr, Hershey, PA, www.troegs.com)
Mad Elf Ale (11%) - brewed with honey and cherries and using spicy yeast, this knocked my socks off!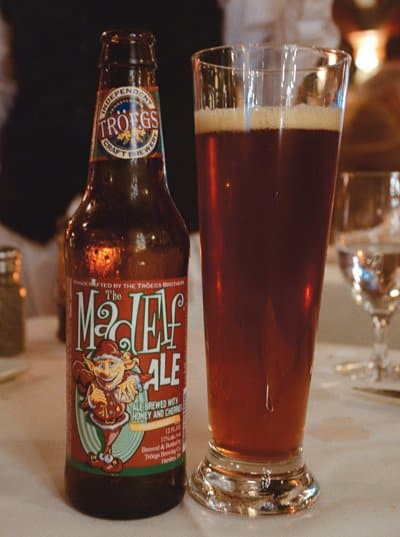 An honourable mention goes out to Brooklyn Brewery (www.brooklynbrewery.com). I've tried their beers many times before, but there were just too many others this time round!
What's your favourite New York beer?